To everything there is time and season, there's is time to be born and there's a time to remember the day you were born. Birthday is a time of remembrance of when you came to this world.
The rush of joy in the soul of the celebrant is always contagious on such a day. People may not have celebrated you before this time but surely on this day, loved ones and friends owe you a celebration. As they celebrate you, you must send a birthday appreciation message to them.
Birthday appreciation messages help you appreciate people genuinely and let them know you value their gifts and wishes sent to you on your special day.
Anyone who is grateful will never lose out on any blessing. If you want people to celebrate you on your birthday next year, appreciate them for celebrating you this year. Here are 125 inspirational birthday messages that are incredible!
Thank You Prayer For Birthday Wishes
Do you want to send thank you message for birthday wishes to your best friends and family? Here are beautiful birthday appreciation messages and prayers on this page for you!
1. To all of you who have made my birthday celebration worthwhile for me, you've made my day a memorable one. Thank you for your messages and wishes.
2. Your kind and heartfelt wishes have left me thinking of the nature of the wonderful friends that you are. God bless you greatly!
3. Your beautiful wishes have made me see what you have at heart for me. Your mouth has fully expressed the deposit of your heart towards me. Thank you very much!
4. My heart is deeply filled with rejoicing and gratitude for reaching out to me on my birthday. I'm grateful for all you've done to grace my day. God bless you!
5. I appreciate the kindness that you expressed through your gift items to me. May you be replenished greatly. Amen.
6. If I were not important to you, you wouldn't have remembered reaching out to me on my birthday. Thank you so much for having me at heart. You really matter!
7. As you have made a big deal out of my birthday, may you never be forgotten for good things. Thank you for celebrating with me.
8. Your presence at my celebration has added color to my day. You made me a great celebrant today. I appreciate you greatly.
9. For the messages you sent to me and the words of prayers you've offered to me, I want to say thank you I'm grateful. You shall be rewarded by the Lord Himself.
10. A kindhearted individual like you has made me feel so special and blessed. I'm blessed for having you around my life.
Birthday Appreciation Prayer to My Friends
11. Knowing that I'm now a year older makes me feel burdened but words of hope delivered through your wishes have strengthened me. Thank you for sending me these great wishes.
12. The time and effort you put in place to express your affection towards me are deeply appreciated. May you be likewise celebrated.
13. This is a new year entirely and you've shown me the depth of love no one can show. I'm thankful for your beautiful heart.
14. I read through your text messages and I could see the depth of affectionate investment you have in there. Thank you for loving me genuinely and making it known on this day.
15. Your calls, gifts, prayers, and surprise packages are highly treasured. I feel special about your treatment. You're always blessed!
Related topic: appreciating the Lord for advancing you in years
Birthday Wishes for Me Thanking God
16. I have received your messages and wishes today and I must confess that I'm grateful for all these wishes. Thank God for your lives
17. I thank God for giving you such a wonderful and great heart to be a genuine friend all the way. Your blessings shall multiply.
18. The greatest blessing is to be surrounded by good people like you. Your golden heart is pleasant to behold. Your life shall advance in every sense. Amen.
19. I'm overwhelmed by your prayers and wonderful wishes. This is nothing but a service of love to me. Thank you so much for being there for me.
20. Lord, I thank you for my friends who have taken their time and resources to show me love today. I thank you so much for keeping them for me.
21. Thank you Lord for giving me these sets of friends, they've been wonderful and supportive over the years. May they also enjoy your backing in all areas of their lives.
22. I want to say thank you Lord for keeping my friends till this point. They've made my day worthwhile. Blessed be your name.
23. Life couldn't have had meaning without having great friends like these in one's life. Your friendship with me has made my life so beautiful.
24. Thank you Lord for the gift of friends in my life. They have helped me so much and made my going very easy.
25. Dear Lord, I ask that you bless all my friends for being faithful for being loyal, and committed to me. Bless them abundantly in the works of their hands.
Prayers for Those Who Wish Me Happy Birthday
26. The way your wishes rush in early this morning made me want to celebrate birthdays over and over again. The Lord will rush divine blessings on you.
27. You've truly added excitement to my life generally even before this celebration shows up. Your life shall not lack celebration as well.
28. I wish I could articulate my gratitude and prayers to you but I must say the Lord blesses you in all that you do.
29. You've made me so happy and my heart is full of gratitude. May you increase in joy and happiness. Thank you for celebrating with me.
29. The Lord shows you mercy in everything you do and everywhere you go. Thank you for rejoicing with me. I shall rejoice with you very soon also. Amen.
Related topic: thanking God, family, and friends for celebrating your birthday
Birthday Appreciation Prayer
Here is the birthday wishes appreciation prayer to say thank you to the people that celebrated with you and also pray for them.
30. To everyone who took their time to look on my side, thank you all for your wishes and prayers, the works of your hands are all blessed.
31. Thank you for the birthday wishes and prayers sent to me on this memorable day of mine. The whole world shall also rejoice with you.
32. Lord thank you for the gift of life and the lives of everyone who also celebrated me. We're all blessed together.
33. As I resorted to bed last night, I began reminiscing on every act of kindness I have received from you all. Kindness shall not cease in your Life.
34. Tears rolled down my eyes seeing the amount of investment you've lavished on me. The blessing of the Lord shall be lavished on you.
35. I have received incredible and laudable gifts today. What a day never to forget. I'm blessed to have you.
36. It's the day of joy for me and you have made it what it should be like. I'm grateful to God for the gesture of love I have received from you. Thanks for the birthday wishes and prayers.
37. Your many wishes made me beam with smiles and endless laughter. Smiles shall not cease from your face.
38. You've made my celebration a unique one. The way you deployed your creativity just to prove the point that you love me is astounding. Thank you so much.
39. I declare over your lives that your life shall be filled with joy and great blessings of the Lord.
Related topic: prayers to thank friends and family
Birthday Appreciation to God
Here is a birthday message to thank God for your life.
40. I'm alive today because the Lord has shown me great mercy. May your name be forever praised above all other gods.
41. This is the day the Lord has made, I rejoice greatly and I'm saying thank you, dear Lord God.
42. Thank you for keeping me alive in the right frames of mind. You deserve all my praise and adoration.
43. I'm the one you've shown mercy and great love to. This is you Lord at work in my life. I praise you now and forever.
44. Thank you for giving me more joy and gladness than in the previous year dear Lord. Make my joy last forever. Amen
45. The Lord has been good to me and I cannot tell it all. I'm here to give you thanks in my capacity.
46. Who would have made this day a reality and possibility if not you Lord Almighty? I say Father thank you, Lord.
47. I'm joyful and exceedingly glad in my Lord and the savior of my soul for everything He represents to me and all that He will yet do.
48. This is my worship to you, your excellency. I'm grateful for you-life without end.
49. As I have come to appreciate you today Lord, give me grace and privilege to do the same by this time next year. Amen.
Related topic: prayers for thanksgiving for birthday
Birthday Appreciation Message to Friends
50. I want to seize this medium to appreciate all my friends and lovers. Thank you all for the birthday wishes and prayers. May you prosper in all that you do.
51. As I advance in age, I tend to know the value of great friends like you. You made my day worthwhile. Thank you for your warm greetings.
52. This birthday celebration is a peculiar one because you've all added flavor to it. Oh, I can't wait to have me celebrated again this time next year.
53. From about three days before my celebration, you've been sending me wishes and greetings. This resonates so deeply within. Thank you so much.
54. As you have made me a priority in your heart, may the Lord also remember you for the good things of this life.
Appreciation Message for Birthday Wishes
55. The kind of gifts you put together to celebrate me tells me how much you think about me. I'm grateful to you great friends.
56. Obviously, I cannot pay for the kindness you all showed to me. I receive this as a token of your commitment to my life. May the Lord bless you.
57. Words are powerful and I can see you've consciously chosen your words to celebrate me. Thank you so much.
58. You've been very consistent in celebrating me for the last few years now and I hope to celebrate you on your special day as well. Thank you so much.
59. Your selection of words to celebrate me will stay with me. I deeply treasure your robust expression to celebrate me.
Grateful Birthday Quotes to God
When you thank the Lord for His wonderful benefits in your life, He will do more things for you.
Do you want to send a birthday thank you to God? Here you have thank you God birthday quotes to express your gratitude to Him.
60. Being alive is a privilege only God can afford a man. Therefore He must be thanked for all His works among the children of men.
61. Being alive is not enough, being in sound health is also a great privilege. This is why I'm here before your thrones to give thanks to God.
62. The Lord who has filled my mouth with laughter is worthy to be adored above all gods. Your name is praised forever.
63. My life shall be a temple of praise to proclaim all your wonderful works in my life. Thank you good and great Lord.
64. God who is great and mighty has done me great things. Blessed be your name oh God among your saints.
65. I'll never take your investment of jealousy in my life for granted. This is what only you can do my Father. Your name is praised forevermore.
66. I'm glad I have a caring and loving Father, you have been with me since I was born and now I'm here at this time. Thank you, dear Lord.
67. I thank you for the kind of family you've established me in. This is one of the best gifts you've given me so far.
67. I was awake all through the night thinking of where you've started with me in the journey of this life and where I am now at this point. Be praised forevermore for all these.
68. Now I know that the Lord is good in every way. Blessed are those that put their trust in Him. I thank you Lord and forever I will trust you for all things.
Thank You All for the Birthday Wishes and Prayers
Here is birthday thank you prayers to appreciate your friends and utter a word of prayers for them.
69. Lord, I thank you for all my friends who have visited me with special gifts and greetings today. May you bless them all for their contributions to me.
70. May you increase them in knowledge and riches so that they can do more for me in the coming years.
71. Keep them from the hands of the wicked ones and let them not fall into the pits of destruction. Amen.
72. All of them have done well by reaching out to me to wish me a happy birthday. Make them happy for the rest of their lives. Thank you, God, for my friends!
73. My good and great friends, Thank you for your birthday wishes and prayers sent across to me. You shall not be found wanting in the days of your celebration.
Appreciation Prayer Message for Birthday Wishes
74. The words they sent to me are so thrilling and precious, I went through them all and I don't cease to be amazed. Thank you so much, Lord.
75. The Lord has made me like a watered garden surrounded by pleasantness. My friends are this pleasantness.
76. All of you have given me incredible attention and gifts on my birthday, the Lord shall specially attend to your needs too.
77. Birthday has made a new meaning since you've taken it up to celebrate me. God, Himself will bring new meaning into your life. Amen.
78. I was swept by your surprise visit last night. The parties you put together were so epic. I thank you all.
Thanksgiving Message to God for the Gift of Life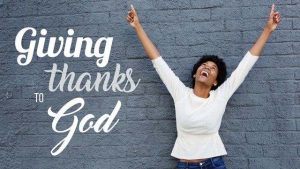 79. Thank you Lord for another gift of life in the land of the living, you're indeed a great God in all that you do.
80. Thank you Lord God for the gift of life, this life of mine shall be lived to express the wonders of your name forever. Amen.
81. I thought of your goodness to me and I can see that I'm forever indebted to you. I will keep praising you till my time is done on earth.
82. Lord, I looked around. I could feel the touch of your love on me. May your goodness not depart from my life.
83. You've shielded me from the destroyers and everything that makes waste. My life is kept today because you've made it so.
Thank You for Praying for the Gift of Life
84. As you've given me this precious gift of life, grant me the grace to use this life for your glory and praise.
85. As I advance in age, make me advance in riches, honor, and great blessings.
86. Thank you, Lord, for sparing my life. Please, dear Lord, elongate my life on earth and give me what it takes to enjoy your goodness.
87. I'm the son of your love and you've been with me from the time past till this moment. I praise you greatly for all that you do.
88. Thank you for this new beginning. You're praised and exalted forevermore. Amen.
89. I will never take your loving kindness for granted. I'm grateful to you God for all that you have done for me.
90. This is yet another privilege of life given to me by the Lord. Thank you precious Lord for your greatness made visible in my life.
91. I'm deeply grateful for all things you have been doing for me since I was born, Thank you, dear Lord.
92. I'm here today to give an offering of praise and worship. You're a good God, Thank you for saving my life.
93. Thank you for making my life so beautiful and desirable. This can only be you, Lord. I will sing of your praise forever.
Birthday Appreciation Message to Colleagues
94. To my wonderful colleagues who made my day very awesome, may your life be awesome as well.
95. I want to sincerely appreciate you for your wonderful wishes on my big day, may you also be celebrated.
96. You added beauty to my celebration, may beautiful things not depart from your life. I celebrate you.
97. This is a great day for me because you made it so, I do appreciate your wishes.
98. Thank you my wonderful colleagues for celebrating my birthday, You are blessed in that you do.
99. The way you showed up today to make my day fun-filled has made me know that I'm a favored person. The Lord Himself shall make your life fun-filled as well. Amen.
100. It's on this occasion that I know how much I'm blessed and favored by the Lord. Indeed, men, are the true proof of divine blessing. May you enjoy peace in every area of your life. Amen.