It's one thing to have a house, it is another thing to have a home. The beauty of every house is to make a home. When a house is built, everyone rejoices with the builder. As you rejoice with either friends or loved ones who just built a house with these new home quotes blessings, so will you be celebrated.
It takes courage, hard work, and determination to build a house from start to finish. A person that buys a new house deserves some accolades too. If you have a friend who has just finished his house, he deserves to be sent words of blessing.
Moving to a new place is a big deal and those that are involved deserve some words of prayer. It's an amazing and fun adventure and it's very thoughtful to wish a person the best when he/she is making a move.
This article contains a lot of new home quotes and blessings to shower on those transiting from one house to another.
New House Quotes
Changing your address and moving to a new place is something exciting. Wish your loved ones these new house quotes to celebrate with them.
1. A new home is a big deal. Changing your address to somewhere amazing is a huge milestone in your life. I hope this new blessing opens the door to a lot more.
2. Breath in the new air of your new environment. Inhale deeply; yeah, that's the smell of fulfillment. Welcome to your new home of peace and great prosperity.
3. This is another opportunity for a new adventure. Make new friends and be friendly with your neighbors. Congratulations on your new home.
4. Remember when owning a house was always one of our many dreams? Your dream is becoming a reality today and I'm so excited for you. Congratulations.
5. You'll need a "me" in your new home so I promise to visit often– You're welcome. Congratulations, buddy.
6. Another goal has been achieved. Onto the next one. Congratulations on your new home. May you enjoy peace throughout your stay there.
7. Now, you can buy a pet without having to take permission from a landlord. You're the landlord now! Enjoy this blessing and expect a lot more.
8. I'm super excited for you. You worked so hard and earned this. Congratulations on moving to your new, beautiful apartment.
9. I love your growth. I'm excited about this new achievement. Congratulations. May you enjoy more of this on earth.
10. God said yes to your prayer and the answer is here in form of a new home. This is the beginning of a million blessings in your life. Congratulations.
My New Home Quotes Blessings
Changing your address and starting a new life in a new environment is an amazing adventure. You worked hard to get it and you deserve to pop some bottles and celebrate your new home. Below are some new home quotes blessings:
11. We are prepared and excited to make new memories in this home. May this house bring prosperity to us. Amen.
12. The process of getting the house was tasking but we did it and we're happy it's worth it. May it bring good things and wholesome memories to us.
13. Now, I have a place that welcomes me with open arms after a bad day. I hope I find comfort in these walls every day.
14. I close an old chapter to start a new one today. Congratulations to me. Wish me well.
15. In this house, we'll create memories– fascinating ones. This house will hold our family and treasures.
16. This new home opens up a new phase where we'll dream our biggest dreams. We're in for the best, congratulations to us.
17. Here, we'll live, love, have fun, laugh, cry, forgive, and be happy. This home will house a lot of beautiful memories.
18. I'm ready for the best adventures that'll happen in this home. Great things are about to start taking place in this home.
19. I hope I come back to this place every day to meet the love and warmth of the ones I love the most. I'm happy I'm here!
20. The rush of emotions when I turn the key and walk through the door of my new home is something I can't put perfectly in words. The excitement I feel knowing that I finally got what I always wanted.
New Home Sayings
Moving to a new place is always a big step in people's lives. They relocate their possessions and settle down in a new place. A new home saying or congratulatory message on a card can put a smile on their faces. Look through these new home sayings and pick the perfect one to send.
21. Every house where there is love and friendship is surely a home and home sweet home is where a heart can rest.
22. Home is a place where you feel loved, appreciated, and safe without any sense of insecurity whatsoever.
23. Home is a shelter that prevents you from all the storms of life. When the storms rage, home is the best place to run into.
24. There is no place like home, there is no place like a lovely abode. After all, is said and done, home is the resting place of everyone.
25. You can always make your home that kind of place of peace, and friendship, a place of sustenance, a place of invitation, a place of love.
26. No matter what one becomes or will ever be, a home remains the sweetest place anyone should aspire to be.
27. May the walls of your home know joy, peace, prosperity, and love unending. May you enjoy new possibilities like never before.
28. It's easier to build a house, but it is not cheap to build a home. A house is made of blocks and cement, a home is made of people living there.
29. Every home has styles and strategies that make it work. Love remains the most important strategy that makes all things work.
30. The ultimate luxury in life is to have a home where you can relax and rest in comfort and peace of mind.
New Home Congratulations Message
Owning a house is a big achievement in one's life. Sending a congratulatory message to a friend, colleague or relative is a good way to show how excited you are for them. Below are some good wishes for a new home:
31. A new house comes with a new beginning. Enjoy this new beginning and massive advancement in life.
32. May you find peace during storms in your new home. Nothing shall make you afraid.
33. Remember when this was still a dream? Opening your new house today is a reminder that you can do whatever you put your mind to. May this never be your last achievement.
34. You're hardworking and courageous. You deserve this win. Enjoy your new home in peace and great riches.
35. Inhale the new air of your new home and know that you are finally reaping the fruits of all your labor.
36. I hope your new home is filled with love, sweet memories, and a million reasons to laugh.
37. Your guest room will never get over my scent. Cheers to a new home, congratulations.
38. A new page of a new chapter has been opened in your life as you turned the key to your new house.
39. I've been thinking of a housewarming gift to give you and I finally decided to give my presence as a gift. I'm coming with a lot of love and vibes.
40. A new home means a housewarming party! Let's celebrate and pop bottles.
41. May your new home be painted with love and laughter.
New House New Beginnings Quotes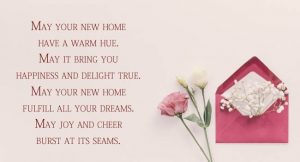 Moving to a new house signifies a new beginning. New house, new environment, new neighbors, and a lot more. Here are some new house new beginnings quotes:
42. Your new home marks the end of an old chapter and the beginning of a new one.
43. New home. New beginnings. New memories. Congratulations! I wish you consistent newness all the days of your life.
44. As you start a new beginning in your new home, may it bring you love and happiness all the days of your life.
Relevant topic: Living with joy and happiness
45. May the roof over your head be always strong. May this new beginning open doors to more blessings.
46. May love and peace fill the air in your new home. Opening your new home will be the beginning of other numerous phases of joy and celebration.
47. I hope love and warmth invite you in when you get back home each day. Congratulations.
48. Congratulations on being the coolest and most amazing homeowner I know. Say hi to your new unofficial housemate–me.
49. I'm happy you've been blessed with a new home and I wish you an amazing beginning.
50. I pray your home is lovely and beautiful every day, just like you.
51. I'm sending a balloon. Blow it and put it in the nicest place in your new home. Cheers to a new beginning.
52. New things bring joy and I'm so excited you're the one smiling today. Congratulations on your new home.
Bought New House Quotes
It's one thing to build your own house from start to finish and it's another thing to buy a new house. Both are amazing adventures and deserve to be celebrated.
Send your friend, relative or any loved one opening a new house, or a bought new house quote today. Or you can congratulate yourself for taking a big step and buying yourself a house. You can pick from any quote below:
53. I'm glad you were committed to this project of buying a new house. The joy that comes with it can't be described perfectly with words. Congratulations.
54. My lifelong dream has been to buy my own house. It wasn't an easy task but I finally did it!
55. Looking at my latest achievement (my new house) and the joy I feel in my heart makes all the stressful process worth it.
56. Purchasing a home indirectly and subconsciously gives you the respect of many people in the community. I'm glad you made this wise decision and I'm proud of you. Congratulations.
57. I understood the true meaning of warmth and peace when I bought my new house and sat in my living room, with classic music playing in the background and the smell of success so strong.
58. You made a plan, had a big dream and we prayed about it. God came in His mighty self and surpassed our imaginations and request. Your new house is proof that God answers prayers.
59. The satisfaction and gratification I feel are immense. I just bought my dream home!
60. Today, as you purchase your new home, I pray that God blesses your new space with happiness, love, and peace. I pray that He dwells in your home forever.
61. I bought a house today and I'm about to make a home out of it. Cheers to life and a home filled with peace, love, and sweet memories.
Related topic: married life wishes
Short New Home Quotes
Wherever they are moving to, moving to a new place and changing the address is one of the most tasking yet fulfilling stages of a person's life.
You are thoughtful and may decide you put your congratulatory message on a card for a loved one that just moved to a new home. Below are some new home quotes short:
62. Home sweet home. Wishing you peace and happiness in your new home.
63. You deserve this and lots more.
64. Paint this new house with love and sweet memories.
65. You bought a new home! I'm proud of you!
66. Now, you're in control of a house that's yours. Congrats!
67. Can't wait to see your interiors. I know they'll be as lovely as you are.
68. Cheers to new beginnings and the start of sweet memories in your new house.
69. I pray your walls are filled with love and laughter.
70. Pop some bottles today and start creating amazing memories in your new home.
71. Your new house is sparkling and lovely. I'm super happy for you.
72. I hope you have lovely neighbors. Congrats on your new home.
73. You're officially an adult. Welcome to your new home. Congratulations.
You Are Your Home Quotes
A home is a place where you feel safe and at peace. This means that you can be your own home. Your mind and heart are the energy house of your body(your home) and when your mind is at peace and your heart is happy, that's a perfect home.
It's very wise to keep and protect your home(yourself) jealousy. Guard your heart and protect your mind. Below are some you are your home quotes:
74. Your mind is a delicate and precious place. Guard it against any bad vibe. Take care of your home.
75. When the activities of others and the things they do to you begin to affect your sanity, please stay away. Your mind is a beautiful place and only beautiful energy should be allowed.
76. Make good friends, and create beautiful memories. You're your home so make sure you're always filled with love.
77. There are some things and some people that give you joy and you feel at peace when they are around. Hold them tight. They'll keep you sane.
78. Celebrate every day. Prioritize your happiness. Don't let anyone steal your joy.
Relevant topic: new week motivations
One Year Completed In New Home Quotes
79. It's your first house anniversary! I'm so excited for you. May this place move you into a better estate! Amen.
80. Congrats on creating memories in your home for a year. Here are to many more beautiful memories.
81. Happy House anniversary! I hope your house is continually filled with love and happiness.
82. 1 year, 12 months, 52 weeks. Happy first house anniversary.
83. Time pass by so quickly. It's still hard to believe that it's been one year since you bought your new home. I wish you many more years of love and laughter in your home.
84. I'm so grateful to be part of the beautiful experience of getting your own home. Cheers to all the beautiful memories you'll still make.
85. Happy house anniversary! Pop some bottles today because this is worth celebrating.
86. Happy house anniversary. Even though I'm not there to celebrate with you, I want you to know that I'm thinking of you and I wish you all the best.
87. Congratulations on your first year in your new home. I'm excited that I get to share the joy of creating memories in your new space in years to come.
88. Continue to make a beautiful home in your new house. Happy house anniversary.
89. My heartiest wishes as you celebrate your first house anniversary. I hope you've made friends with your neighbors.
90. May you continue to create sweet memories in your new house. Happy house anniversary!
91. Cheers to more weekend get-togethers and backyard parties. Happy house anniversary.
92. I'm really glad you're finally settled in your new home. I pray your house is filled with warmth and love always. Happy house anniversary.
Related topic: Congratulation on the wedding day
Beautiful Homeownership Quotes
A home is a place where we feel safe and secure. A place where we come to and find rest when the world outside is in chaos. No matter where you live, a cottage, a bungalow, or an apartment, as long as you feel safe and at peace in the place then that's your home. Be inspired by these homeownership quotes.
93. It's good to appreciate the abundance you already have, which may include your home, loved ones, the area where you live, great opportunities, and the love you are enjoying.
94. You can make your home to be a place of harmony, peace, and joy. Building a great home is worth the sacrifice.
95. The home is a place of laughter and relaxation for the builder. The efforts to build a home are worth the sacrifice.
96. Home is the only place to find happiness. If one doesn't find happiness at home, one cannot find it elsewhere.
97. No one is bigger than the home he has built. If you build a great home for yourself, you will surely enjoy it.
98. The joy of belonging to a sweet home cannot be likened to anything in this world. Home is the sweetest of all places on the earth.
99. Home is a place of peace and a sweeter spot than all the rest. If you have a home, you have it all.
100. The best part of going on a vacation is coming back home; to a place filled with warmth and peace. God bless your home!
101. A home should be a refuge from the flaming arrows of anxiety, tension, and worries of this life. When life hits you left and right, home is the surest place to run into.
102. A home is where memories are created, love is always present and warmth and laughter never cease. To have a great home is a blessing!
103. The most important thing in one's life is a safe and secure home filled with warmth and happiness.
104. Your life is as beautiful as your home. To build a great home is to build a great life.
Good Wishes For New Home
105. The thought of coming back home to meet the ones you love makes the day's work easier. Every place may reject you but home will always accept you.
106. Having a home reassures you that after all the ups and downs of the day, you have a place to go to for warmth, love, and a recharge.
107. Owning a home and having a great family is a huge blessing. Cherish it forever and never take it for granted for any reason.
108. Your home is you. Anytime you invite people to your home, you invite them to yourself to meet who you are in reality. May you enjoy peace in this new house of yours
109. No matter the level of your accomplishment in life, you don't seem to have anything unless you have a home.
110. A home is a beautiful place. It accepts you for who you are and never rejects you. It's a place you go to after a bad day and you feel safe.
Owning a home and changing your address is a big deal. It's exciting and adventurous. I hope you find the perfect quote to send to someone that just bought a house.