The weekend is a time of relaxation from the hard tasks of the working days of the week. It is time for you to ease tension, get refreshed, and prepare for the following week. Weekends are designed for rest so that the body will not burn out quickly. Do you have a friend and you want to send happy weekend greetings to him or her? This piece is perfectly crafted for you to view and make use of in your greetings.
Perhaps you want to spice up your friend's weekend with unique happy weekend greetings that will make his/her heart glow with love and admiration for you. You are in the right place! These greetings will add sunshine to his/her weekend and will make it fulfilling as he/she will feel loved and treasured.
You probably have someone you're in love with but you do not know how to express your feelings. Why not communicate your feelings with these greetings that have been crafted for you? These greetings will add flavor to your relationship with friends and loved ones.
Weekends keep you settled, recharged, and ready to launch out into another week again. They are retreats you take to rest, relax, think and plan for the coming week. During your weekend, you can say hello to your friends with these good morning weekend wishes and messages to say well done to them for the task of the week.
Good Morning Happy Weekend
You rise from bed on a Saturday, the sun is high in the sky, glowing with soft rays that plaster a smile on your face. Your heart is warm at the work of God's hands then your mind runs to that friend and you want to express yourself on a weekend. This good morning happy weekend wishes and messages will help you know how to express your mind and the moment with the right words.
You have had a great sleep and you wake up filled with vigor. You feel like running out of the bedroom to hug the sky. The friend you cherish so much floats in and you are elated. You can't wait to send happy weekend wishes to him/her via WhatsApp, Facebook, or any other social media platform. These greetings here are here to guide you.
1. Dear Friend, I woke up this morning with the sun rays streaming into my room, breathing and smiling upon my face. This is my best morning. What about you? All I just want to say is; good morning and happy weekend! Yay! It's the weekend. Enjoy the rest of it, dear Friend. See you do well.
2. The long-awaited weekend is here guys!! It's a time for rest, fun, and enjoyment. I wish you a happy weekend from the depths of my being.
3. My good morning weekend wishes to you all. I hope you are doing well today. I love you all! Enjoy your weekend with bliss!
4. My greetings go out to you, precious Friend. May this weekend ease the tension of the previous week. Rest well, friend. You are deeply loved by me. Good morning and happy weekend to you!
5. Happy weekend to you my friend. I know the previous weekend has been hectic. I pray the coming week comes with less stress. Stay healthy.
6. This weekend is a time to let go of your worries. Just sit back and enjoy. Everything has been given to you to enjoy.
7. Heyy! You there! How are you? Remember this week is over. Entertain no anxiety, and have a good weekend!
8. As we come to the close of the week, I wish you a happy weekend. Spend time with your family this weekend, it pays.
9. Relax, let go of your worries and everything that gives you concerns. Wishing you a wonderful weekend experience!
10. Chill. It's the weekend. Stress is not good for you, take time to relax until you have really done so. Happy weekend to you.
Related: Best Sunday Wishes and Blessings
Best Weekend Wishes, Prayers, and Blessings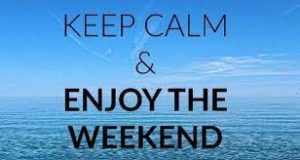 11. Wishing you all a beautiful weekend. It's time for fun. May this weekend be filled with fun, joy, rest, and fulfillment on every side of you. Have a restful weekend experience.
12. Weekends are times to be carefree and enjoy the fruits of your labor. Drop the stress of the last week. Get vitality this weekend and get back to work stronger. May you be invigorated with new strength. Amen.
13. Hi love! Wishing you a great weekend. May this sweet weekend come with fresh energy and renewed hope. Everything that gives you concerns shall be taken care of by the Lord. Amen.
14. This weekend will be fruitful for you, your heart desires shall be granted in the name of Jesus. Enjoy your day.
15. Good morning, happy weekend. This shall be another weekend of rest, comfort, and serenity for you. Have a lovely weekend everyone.
Happy Weekend My Love
Do you want to show that you love him/her? You can send these happy weekend messages and wishes to him/her to show your depth of love. These good morning weekend messages will spice up your love life and renew your commitments to each other. A well-crafted weekend greetings messages have a way of strengthening the bond of affection between two lovers.
Happy weekend my Love greetings and messages are meant to show to brighten your lover's weekend, adding flavor to it. You can make your lover happy and love with these happy weekend messages to him/her.
16. Happy weekend. my Love. I woke up this morning with the thoughts of you embedded in the depths of my being. The thoughts of you alone engulfed my soul. How have been your weekdays? Enjoy your weekend.
17. My Sweetheart, I can still see your face in my head. I am sure you are preparing your favorite weekend breakfast. Happy weekend to you.
18. Another great weekend is here again, my Love. Have fun but remember to plan for the coming week.
19. Babe, I am wishing you a lovely and fun-filled weekend. Take time to relax for me, I need you to be fine always.
20. Hi beauty, it's been a stressful and tiresome week for you, I know but the weekend is here again. Stay rested and fulfilled.
21. Hello, the weekend is here again! Yay! It's time to sleep, wake up, and take stock for next week. Have a great weekend, my King.
22. Hiiiii…another weekend is here. We'll be together again, spend time together. Baby, I have missed you… can't wait to spend this Saturday with you.
23. At last the week is over…guess what? We are visiting the beach together! Yay!! It's going to be an exciting experience together!
24. Life was going so hard! For shaking and chilling us the weekend comes again! Let's ensure maximum pleasure from the highly expected day. Have a blessed weekend!
25. My Love, happy weekend. This is now the time to distance yourself from those activities. Just lie down. Blank out everything and relax.
Related: Warm Monday Greetings and Blessings
Wonderful Weekend Wishes for My Love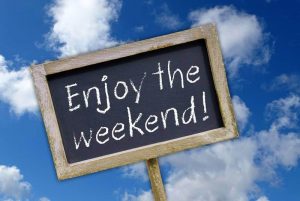 26. Hello Sweety, I know You have been hard on yourself but now that it's time to go soft. Happy weekend.
27. Just stay calm, Darling. Go softly! Everything will be alright. It's the weekend, rest so well!
28. You have worked all through the week. You deserve to observe your rest without entertaining any worrisome thoughts. Have a nice weekend, Love.
29. Weekends are God's gifts to us and thank God it's weekend again!!! I wish you lots of God's blessings. Have a cool weekend. My heart is ever filled with love for you!
30. This weekend will be so lovely for you, Dear. We will be together again and feel the warmth of each other. The best experience awaits you this weekend!
Sweetest Weekend Wishes/Messages
The weekend is the end of all weekly activities. It's a time to be with one's family and loved ones. It's also a time to send the sweetest weekend wishes from your heart to that person whom you love and cherish so much. The weekend is just the right to do just that. Try it and the person will love you more dearly.
Have a nice weekend message from a heart of love that makes the weekend very beautiful for everyone. The greeting puts a smile on the faces of people and makes them feel loved and cherished. The greetings cement relationships, making them stronger. Here are some good morning and weekend wishes to make the weekend very sweet!
31. You deserve a sweet and restful weekend. Get out there and ease the stress, and have fun today like never before.
32. Friend, the last five days have been a choker. This is the time to lose yourself and be unserious for a while. Smiles! Happy weekend to you!
33. This is the weekend. There is no excuse not to be with your loved ones. Spend time with your lovers today. Happy Weekend!
34. Today is Saturday and here comes the weekend, to cater to your tired body, care for your stressed mind and renew your strength. Have a happy weekend.
35. Happy Weekend! Unwind yourself and take care of yourself today wonderfully, Guy! I have your best interest at heart.
36. Now that the weekend is here; relax your mind, body, and soul. Breathe in pure air and give yourself a heavenly feeling.
37. Thanks so much for your support this week. This is the weekend; have lots of wins and joy.
38. The perfect time is here to relax and have a good time with colleagues and family. Let the joy, love, and laughter go around.
39. This is the best time of the week. Stay late in bed with your Sweetheart, look her in the eye and tell her how much you love her.
40. This is the day to hang out with your loved ones. Leave the work for a while…yay! It's the okay time! Enjoy yourself.
Related: Sweetest Tuesday Greetings and Blessings
Happy Weekend Message To Her
Are you looking for beautiful weekend messages to send to your wife? Here you have them here!
41. Sit back, My Queen, spread your legs in front of you, breathe in, feel the fuse yourself with the air, and say; I am blessed. Thank God it's a weekend to show you all the love in my heart.
42. It's Saturday! Stay happy! Being happy is the greatest service you owe yourself. I'm right here by you to show you all the affection you will ever require. Have a happy weekend!
43. I know you have a lot to deal with, and I know you're working hard at smashing your lofty goals, but this is the end of the week. Play a bit… Happy weekend with lots of God's grace and fun. I love so much, Darling wife
44. Good Morning Love, I woke up smiling at the thoughts of you. It's time to stay together and enjoy each other. Have a great weekend!
45. Dear, I am wishing you a lovely celebration of rest and wins. You deserve to enjoy the works of your hands. Feel great about yourself. Have a weekend filled with celebrations!
Related: New week greetings and blessings
Happy Weekend Inspirational SMS
You can send your good weekend wishes and your best weekend wishes vis SMS. To make your lover or acquaintance happy. Happy weekend inspirational SMS shows your depth of devotion to your friends and loved ones.
Your inspirational weekend messages can be very invigorating and refreshing to the recipient. Inspiration has a way of motivating your cherished one to dream more, learn more, and do more amazing things. They will love and cherish you for pushing them beyond their limits. Here are some inspirational weekend wishes for you to get that person inspired.
46. Perhaps you have worked throughout this week; setting and smashing goals, attaining new and greater heights, and doing amazing things, now is the time to just retreat, this Saturday. Rest so you can do more. I'll meet you at the top and cheer you to your excellence.
47. In life, you need rest to refuel yourself for another exciting and purposeful endeavor. Rest well, this weekend is all for your enjoyment.
48. Rest, the Lord's in control. If there is anything at all that bothers you, cast all care upon him. Happy Saturday.
49. It's the weekend, rest but let it not end your goal. It's the weekend, rest but let not your dreams end. Rest, meet people, prepare and believe in God that He will help you. Happy Saturday.
50. Weekend is the time to sleep all day but never sleep all the time. Have lots of fun this Saturday.
51. Have a fun-filled and restful weekend Dear. May your soul find rest, Sweetheart.
52. Have a Great Day, Dear. You've been amazing and hardworking. May all your efforts be rewarded. Amen.
53. This weekend, may your little rest rejuvenate you, and may you come back stronger and better for the adventure of next week.
54. Wishing you an inspirational and great weekend. May your soul be filled with inspiration to take your works to the next level.
55. It's time for a weekend of sweet love and joy. I'll be with you to give you the loving love, care, and kisses you deserve. Happy weekend!
Read Also: Morning Positive Blessings
Sweet Enjoy Weekend Messages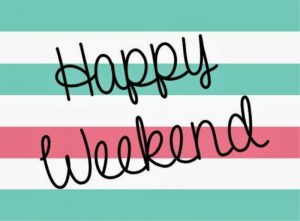 56. This is to let you know that you're going places. Keep growing and moving forward. As you strive towards your goal, also enjoy the journey. Happy weekend!
57. It's the weekend again, take a look back and take stock of the week's achievements and activities. Have a beautiful and enjoyable weekend.
58. Because you're my friend, I give you the greatest weekend wishes…more inspiration to move further as you have fun this weekend.
59. Greatness is in you. To show greatness, rest as you work. This weekend is the right time to enjoy the fruit of your labor. Rest, please.
60. It's amazing having you as a friend. You're a great ally in my life. I need you to be alive and in good health. Therefore, rest properly.
Weekend Messages For Whatsapp And Facebook
Social media is a great place to communicate your expression of love to those you cherish. WhatsApp is a very great platform to send your happy weekend wishes to your loved ones. Here are weekend messages for WhatsApp to send to friends and lovers to make their day. These greetings have been packaged for you.
61. May all resources be replenished, your strength is renewed, and may you exceedingly succeed than you have ever been. Happy Saturday.
62. Hi everyone here, guess what? It's the weekend again! Weekends flood my mind with memories of sweet moments we share here… Wishing you a happy weekend.
63. I know this week has been hectic and tasking, this is a time to rest. Have a great weekend.
64. Dear valued Friend, Thank you for being an amazing person. Wishing you a lovely weekend.
65. This weekend, I pray you enjoy all of God's blessings and favor in all your endeavors.
66. I wish you a beautiful weekend package of peace, good health, joy, and comfort on every side. Have a joyous weekend!
67. I pray the floodgates of heaven to be opened to you and fill your life with abundant blessings. May your life be satisfied with pleasant things.
68. Happy Weekend to all my friends here. I hope you are enjoying your rest in serenity. You're all great!
69. Saturdays and Sundays are days of rest and sleep. Please take time out and use the weekend for the relaxation it is meant for. This is good for your health. Happy weekend.
70. Here's wishing you a nice weekend and a beautiful experience in it. May your life be filled with sweet memories of it.
Related: Saturday Prayers and Blessings
Have A Good Weekend Messages
71. In this weekend, relax God is with you. Trust Him to take care of everything that gives concerns. Rest in His arms.
72. You have toiled during the week, you have done so well. God who has given the power to labor has also given the power to enjoy the fruit of your labor. Therefore, take your rest.
73. Rest of the mind is yours this weekend. Take yourself out to see beautiful things out there and enjoy the beauty of nature.
74. I'm certain you have anticipated this weekend right from midweek! Here you have it, kindly enjoy it. Have a lovely weekend guys!
75. Here's another opportunity to re-plan, re-strategize, and launch out again. May your strength be renewed! Have a blissful weekend!
Blessed Weekend Wishes
Do you want to bless that special person on a weekend like this?. These are blessed weekend wishes that can turn his or her life around for the better and make him/her become a better person and highly productive and valued in society. Make do with these best weekend wishes and nice weekend messages to bless your loved ones.
76. Put the week past behind, It's history, face the future and you shall win. Have a blessed and blissful weekend!
77. This weekend's greeting messages are for you; God's peace will not depart from you, and His strength shall find a home in you. You're blessed beyond measure. Have a lovely weekend!
78. Weekends are for resting and prayers for God's provisions for the next week. Stay in Him and you're blessed… Wish you a happy weekend.
80. Weekends are a sign of God's provisions even when you're not working. Stay with Him in faith. He's bigger than you think. He's the provider, and Father of blessings. Have a blessed Saturday.
81. Dear Friend, forge ahead. The sky is the starting point. Remember; God's with you. Stay forever blessed.
82. You've channeled so much energy into your purpose last week. It's the weekend. Rest and Refuel. And go out in God's power into purpose again. You're blessed.
83. You should stay away from all kinds of official jobs totally and be at home with yourself. Enjoy the day and have a great weekend!
84. Even in the darkest times, God's still with you. You're blessed beyond measure!
85. Now I declare; that the Lord has given you strength and wisdom this weekend for the following week. You're in for massive blessings.
Related: Friday greetings and blessings
Good Weekend Messages
86. This weekend; you are for in God's undeserved blessings and breakthrough. The favor of God is all yours!
87. As you begin your weekend, may God watch over you and keep you jealously with His eyes. No evil shall touch you. Amen.
88. It's the weekend. Be relaxed. God's here with you and He will take you to your desired destination.
89. My best weekend wishes go out to you, my sweetest friend. May your soul be filled with sweetness from heaven. Amen. Have a blessed weekend.
90. This weekend; just rest in the blessings of the Lord with which you have been blessed. Nothing shall take away your blessings. Amen.
Happy Weekend Good Morning
On Saturday morning, you wake up feeling light, knowing that it's the weekend; a free day. Excitement springs in your heart as you know you are going to enjoy your life. You can brighten your weekend by sending happy weekend good morning messages and wishes to a friend; a friend whose week had also been hectic.
91. It's been a laborious week. The weekend is here for you to relax. I wish you a Happy Weekend. Relish the morning.
92. At last, the week is over. It's a wonderful morning but the weekend is short. Enjoy it as it has arrived. You deserve it.
93. I have seen the labors of your hands and I must commend all your efforts. You deserve a sweet weekend. Good morning.
94. Saturday morning comes with a placating sensation to discharge every one of the tensions of the week. This is what you await. Have a nice weekend!
95. The chirping of the birds in the morning means rest. So, maximize the day and give yourself rest. May the Lord give you rest from all your labors
96. This morning, stay in bed and sleep longer, and have sweet dreams. Have a fun-wonderful weekend!
97. Don't rush yourself this morning, you deserve to rest. Take enough time to have the thrill of the day!
98. This is the day to hang out with loved ones. Bask in the morning sun. Enjoy your day, and happy weekend.
99. The weekend is one of the best days. It's time to gather hope in one sheaf and move out again.
100. Good morning Pals, Have a cool and lovely weekend!
Related: Good morning have blessed quotes and wishes
Good Morning Saturday And Happy Weekend
101. Good Morning Friends, I do hope you are having a wonderful morning. Wishing you all the blessings of God!
102. Good morning, Friend! Remember the week is over! So go nowhere this morning. Just rest!
103. Good Morning, Everyone, you all should have a great weekend and a lovely experience.
104. Hello to you all. I am wishing you all a fantastic weekend. And good morning to you all!
105. You all should all take your rest today and have sumptuous meals with family and friends. Good morning.
Happy Weekend Text Message
Words have power. They can build up or destroy. You send a happy weekend text message to that beloved one to build him/her up. You can send weekend text messages or weekend greeting messages via your mobile phone as SMS or through social media.
On weekends, your greetings matter. Do not be so wrapped up in yourself that you expect others to greet you on a weekend. You will make that happen by greeting them with these messages.
106. This weekend, make use of every minute because weekends are always short. Relax and enjoy!
107. I wish you excellence in all you do and outstanding success. Believe God is there to help you. Happy weekend!
108. Have a great weekend, my precious friend. I wish you more victories and more wins in all that you lay your hands to do.
109. I know that you have a strong desire for the top place, and you shall not be denied. See you at the top pal. Happy weekend.
110. And while the weekend is here, let your whole being be relaxed and refreshed while preparing for another week.
111. Rest, all will be well. Have a great weekend, beautiful Soul.
112. Have a happy weekend and a joyous new week ahead. Nothing shall interrupt your joy. Amen.
113. You have done a lot throughout the week and you deserve to suspend yourself from work. Relax so that you can start again.
114. The weekend is the time to run from work and come back again. May you return to work stronger than you came into this weekend.
115. I forget work, for now, then I return with the strength to do better which was not easy for me during the past week.
116. This weekend, may your rest be fruitful and rejuvenated. May you never know any lack in any area of your life.
117. The weekend is a free pass to spend valuable time with your family. Take time off work this weekend and chill.
118. The weekend starts today and this means the end of work tension building up since Monday. Rest and start a new week in the context of your dreams. Have a lovely weekend ahead.
119. This weekend will open the doors of God's replenishment for you. Enjoy your wonderful weekend.
120. Your depleted resources shall be replenished and multiplied. You shall never run out of resources. Have a fun-filled weekend!
Read also: Thursday blessings and wishes
I Wish You Happy Weekend Quotes
Weekend wishes quotes keep you inspired and invigorated for the activities of the following week.
121. To every labor, there is a reward, you shall never lose out on your reward. May your strength be renewed as you rest, this weekend.
122. Happy weekend to you all. May all the days of your life be filled with joy. Amen. Happy Saturday and have a great weekend.
123. Hello fellows… today's Friday! I know you like this day so much. Welcome and Have a lovely weekend.
124. Just as the sun rises and gives light to the world, may you rise and shine the light brighter than the sun. Amen.
125. Nothing makes life worth living as much as laboring and seeing the reward for it. May your effort be compensated with a plentiful harvest. Have a beautiful weekend!
126. Rest is a fuel that fuels your soul for the next activity. Take proper rest because the journey is quite far. Have a restful weekend!
I know you have enjoyed going through these wonderful greetings for the weekends. Kindly share with family, friends, and loved ones.