Congratulatory Wedding Messages to Couple | 101 Powerful Prayers and Wishes for the Newlywed
What comes into your mind when you hear wedding messages to couple? Do you think such messages are necessary? Of course, they are! Marriage is a divine gift from God which leads to plenitude of man on earth. It gives one the opportunity to have a spouse one can confide in and relate with at all times. Marriage is a relationship that requires a man and a woman to pledge to each other for eternal love and bound, "Till death do us path". So, journey should always begin with the messages and words of blessing for married couple.
Aside this, every marriage needs blessings for marriage couple because it strengthens their connections with God and solidify the marriage itself. And, this is important because healthy marriages are not totally possible by the couples themselves, the blessings and God's interventions are what pave the way for easiness in the marriage.
Definitely, every marriage has its fallibility despite the couple's efforts, but the words of blessings and prayer for the married couple would keep them on the right path and instigate the happiness in the marriage. So, why don't you send some heart-warming wedding messages to couple filled with prayers and words of blessings?
Are you looking for marriage prayer for newlyweds? You don't have to worry about where to get these prayers, blessings and wedding messages to couple, this page is filled with loads of them.
Wedding Blessings and Wishes
Wedding blessings and wishes can be sent before and/or after a wedding ceremony. As we all know that wedding is the greatest joy one possesses. It denotes the beginning of one's marriage life which entails many traits.
Marriage blessing prayer to your loved ones on their special occasion is one of the best gifts you could ever offer them. Send these congratulatory wedding messages to couple on their great day in a wedding card or on social media. these newlywed blessings will make them feel so blessed.
1. Congratulations to you on your wedding ceremony! I wish you everlasting happiness and peace. Enjoy your sweet bonding and blissful friendship!
2. Happy married life, Dear. May God guide you to a prosperous married life with blossom love, happiness, and purity. May evil not befall you as you make a new family.
3. Congratulations! The matchmaking is awesome! I thank God for you because it's obvious you are meant for each other. Keep loving yourselves with God's grace.
4. May this special day of yours be filled with joyful memories. You shall never regret having a spouse like yours. Amen.
5. Today begins a new aspect of your life. I wish you greatness and eternal happiness in this new season of your life.
6. Thank to God for making you one of my family members. We may not be related by blood but we are one, and I pray that this new relationship will be unending.
7. It is a great thing to know that two awesome people are becoming one today. Accept my love and happiness for this great day.
8. Congratulations! How wonderful it is to witness today with you! How exciting it is to know that you are about to build your home! Go with peace and God's blessings.
9. It is good news to see you getting married. May this grace not cease from you, for you are wonderfully destined by God in this marriage.
10. Happy married life, newest couple in town. I pray you grow in love for each other, which would make your relationship stronger. Amen.
Marriage Blessing Prayer
11. Marriage does not only entail love and fun but also responsibilities. I pray that God give you the strength to make a good home.
12. What a perfect couple! I am happy that God has done it in your life and will still do more. Happy married life to you. May death not separate the love that exist between both of you. Amen.
13. It is one thing to say 'YES' and it another thing to do it. I am glad you said it and did it. Thanks for accepting him/her/(name) in your life. May you never regret this decision. Amen.
14. Congratulations to the best couple who have revealed the purity and happiness of love. Cheers to your marriage life!
15. Happy wedding celebration to you! I pray this wedding will be filled with affection and peace that comes from a blissful marriage. Enjoy your day.
16. A sweet story of life commences today with two love birds. May this not be the end of the story, rather it shall be told to the beautiful upcoming generations. Amen.
17. Congratulations! Be aware that you are special in the sight of God. He that has bound both of you together shall never leave you. Amen.
18. It is a divine gift to find a true love and an amazing partner. May you continue to live together as one in this matrimony, the wine of your love shall not run dry. Amen.
19. It all started like a joke until we suddenly heard the great news about your wedding. You are a blessing to us for such a wonderful moment. Congratulations!
20. Congratulations! May God bless this day and every day of your life. Amen. It is indeed a blessing to experience such a beautiful day!
Related: Best messages to the bride on her bridal shower
Wedding Prayers from The Bible
Most times, every couple turn to the bible verses for God's guidance and faithfulness. The Bible is one that strengthens the mode of communication between God and humans. It enlightens the hearts of men. The Bible serves as a divine wisdom to marriage, and it entails blessings and promises for everyone. So why don't you send wedding prayers from the Bible to newly-wedded couple?
It is a great honour to send newlywed blessings from the Bible to couples because it conveys authority and assurance of God's intervention. Laying the foundation of your union on the authority of the scriptures will place the union under divine watch.
21. No longer will you be called "Forsaken", Or your land be called "The Deserted Wife". Your new name will be "God is Pleased with Her". Your land will be called "Happily Married", Because the LORD is pleased with you and will be like a husband to your land. (Isaiah 62:4)
22. "No one has ever seen God, but if we love one another, God lives in union with us, and his love is made perfect in us". (1 John 4:12). May you be made perfect in love. Amen.
23. "Instead, be kind and tender-hearted to one another, and forgive one another, as God has forgiven you through Christ". (Ephesians 4:32). The grace to always forgive each be released upon you. Amen.
24. "As soon as I left them, I found him. I held him and wouldn't let him go until I took him to my mother's house, to the room where I was born". (Song of Songs 3:4)
25. "I appeared to them from far away. People of Israel, I have always loved you, so I continue to show you my constant love". (Jeremiah 31:3).
26. "You are always in my heart! And so, it is only right for me to feel as I do about you. For you have all shared with me in this privilege that God has given me, both now that I am in prison and also while I was free to defend the gospel and establish it firmly". (Philippians 1:7).
27. "So, they are no longer two, but one. No human being must separate, then, what God has joined together." (Matthew 19:6). Nothing shall separate you in the name of Jesus. Amen.
28. "Meanwhile these three remain: faith, hope, and love; and the greatest of these is love" (1 Corinthians 13:13). May you find grace to embrace the love between you as the most important. Amen.
29. "Be always humble, gentle, and patient. Show your love by being tolerant with one another. Do your best to preserve the unity which the Spirit gives by means of the peace that binds you together". (Ephesians 4:2‭-‬3)‬‬‬‬‬‬‬‬‬‬‬‬‬‬‬‬‬‬. May both of you find grace to submit to each other in the fear of God.
30. "But it also applies to you: every husband must love his wife as himself, and every wife must respect her husband" (Ephesians 5:33). You shall find grace to fulfil the scripture in the name of Jesus. Amen.
31. "My lover is mine, and I am his. He feeds his flock among the lilies". (Song of Songs 2:16)
32. "No, the LORD has told us what is good. What he requires of us is this: to do what is just, to show constant love, and to live in humble fellowship with our God". (Micah 6:8)
33. "No longer will you be called "Forsaken", Or your land be called "The Deserted Wife". Your new name will be "God is Pleased with Her". Your land will be called "Happily Married", Because the LORD is pleased with you and will be like a husband to your land". (Isaiah 62:4).
34. "No human being then must separate what God has joined together." (Mark 10:9). You shall be beyond separation in the name of Jesus.
35. "I alone know the plans I have for you, plans to bring you prosperity and not disaster, plans to bring about the future you hope for". (Jeremiah 29:11). The thought of the Lord shall stand sure over your life. Amen.
36. "Two people can resist an attack that would defeat one person alone. A rope made of three cords is hard to break". (Ecclesiastes 4:12).
37. "So be happy with your wife and find your joy with the woman you married — pretty and graceful as a deer. Let her charms keep you happy; let her surround you with her love". (Proverbs 5:18‭-‬19)‬ ‬‬‬‬‬‬‬‬‬‬‬‬‬‬‬‬‬. Happiness and love shall not depart from your home. Amen.
38. "If one of them falls down, the other can help him up. But if someone is alone and falls, it's just too bad, because there is no one to help him". (Ecclesiastes 4: 9-10). Your marriage shall not suffer loneliness in the name of Jesus. Amen.
Related: Words of appreciation to those who attended your wedding
Wedding Prayers for the Bride and Groom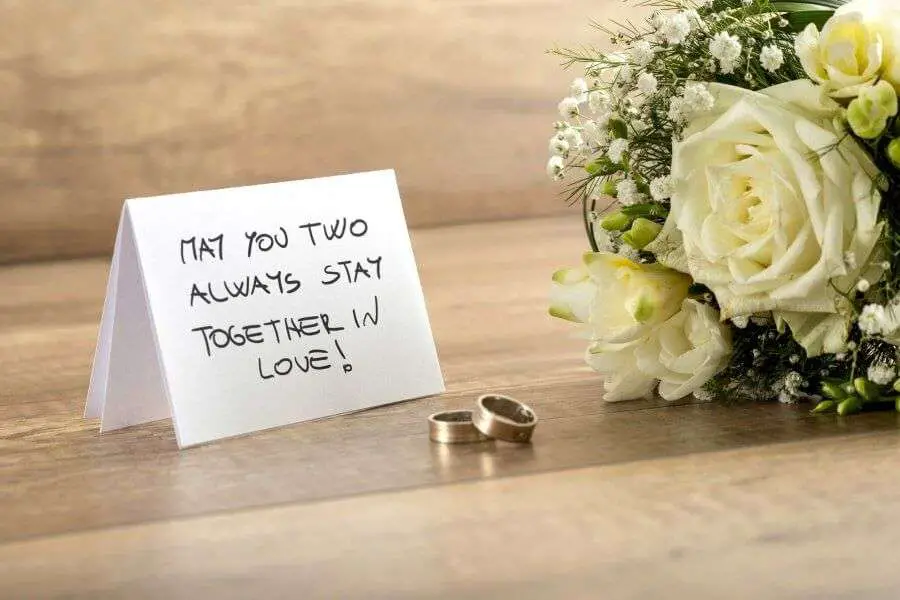 It is a good thing to send wedding prayers for the bride and groom. What they need from you is your prayers which may be verbal or written. This is similar to receive a blessing from God for the newly-wedded couple.
Every prayer is beneficial to the bride and groom. Why don't you choose one of these wedding prayers for the bride and groom and make them happy?
39. Everlasting God, I pray that this bride and groom live with peace and love. May they never lack your divine understanding to rule their marriage. Amen.
40. May the Lord's blessing reflect on this new family. Whatever they lay their hands upon shall be successful, in Jesus' name. Amen.
41. We are grateful, dear Lord, for this new bride and groom. We ask you to keep them, and the love that joins them together shall never die. Amen.
42. We present the Bride and Groom's wedding into your hands, O God; be their bride and groom because love from you is the greatest. Amen.
43. May God bless each of you with his qualities of forgiveness, love, trust and cooperation as you begin a new chapter together. Amen.
44. Abba Father, this couple have vowed to be together "till death do them apart," we seek you to be the foundation of their love and unity.
45. Gracious God, bless the newly-wedded bride and groom, make them fruitful and multiply them, grant their heart desires and flourish their love for each other, in Jesus' name. Amen.
46. As we come together to celebrate and unite this couple, may we not regret of our actions. May God strengthen their love, compassion and sacrifice for each other. And, may this marriage last with joy and happiness.
47. Dear Lord, provide for this new family and put them in a place they will experience love, fruitfulness, happiness, understanding and lots of more.
48. We plead for Your blessings and love, O God, as we experience this bride and groom pledging their love together; give them the spirit of understanding and patience so they can live together forever. Amen.
Related: Sweet married life wishes
Blessing for Couple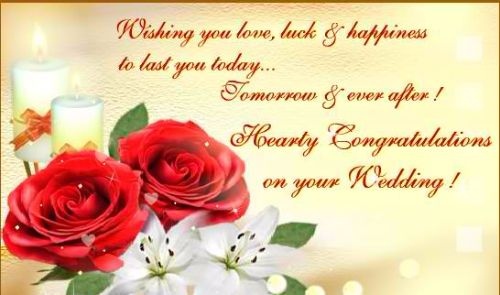 Don't get worried about a sweet God bless your married life message to send to the newest couple you know. It is a message that blossoms the hearts of a newly-wedded couple because it comes with sincerity and the inclusion of God's name.
Here are some wonderful collections God bless your married life wishes with sweet words and memorable sign of love. Then, hurry to choose any message of your choice and send to those lovely couples.
49. May the good Lord bless your marriage with love and happiness, and may His face shine upon you and strengthen the heart that beats for love. Amen.
50. I wish you a happy married life. May God continue to bless and keep you for each other. Amen.
51. Thank God for the grace of this marriage with realms of happiness and steadfast love. May God bless you both with happiness. Amen.
52. May you never get tired of loving each other, and may your love for each other increase on daily basis.
53. Love is the greatest. Marriage is a bond. May God grant you peace and love for each other in this bond. May God bless your togetherness. Amen.
54. May God keep increasing your love for each other, and may it grow beyond what you imagine with wonderful union. May God continue to bless your marriage with love and laughter. Amen.
55. May God bless your marriage and give you the gift of unconditional love and incredible blessings. May god continue to bless your union. Amen.
56. As the Bible says, "Whatever God has joined, let no man put asunder." May it be so in your married life. Amen.
57. You have been joined together as one. May God that joined you together not allow anything separate both of you. Happy Married Life!
58. O Lord, bless this newly-wedded couple. May they find peace and love in each other and always praise you for your intervention in their married life. God bless both of you in your union. Amen.
Related: wishes and blessings for the couple
Prayer for a Friend's Marriage
59. May you have the spirit of forgiveness for each other when there seems to be faults. May God give you the grace to settle things without the interference of anyone.
60. I wish you a happy forever unity! May this not be the last wish for the both of you. May your marriage be a good example for upcoming couples in Jesus' name. Amen.
61. God bless your marriage with abundant grace and favour. Congratulations and Happy Union! God bless you both. Amen.
62. May God brighten your marriage and grant your heart desires as you start another beginning together.
63. I wish you a happy married life. May God build your new lives with love and great joy as you begin a new chapter of your lives together. Amen.
64. May He that brings you both together never let you down in all your endeavours. Happy bonding! May god bless you both abundantly. Amen.
65. What a joyous thing God has done! We rejoice for God's goodness in your lives. May He bless your married life. Amen.
66. You are a perfect couple. May your alluring bond increase in love, happiness and long life. Amen.
67. Congratulations on your wedding! Today is one of your happiest day and I pray that this day shall bring more fortunes.
68. Dear (add name), as you make a new family with your partner, may you be fruitful and multiply. May God bless and keep you for each other. Happy married life.
Blessing Words for Wedding
A blessing is the invocation of divine aid for your loved ones. It is good to seek divine intervention in weddings/marriages. Therefore, blessing words for wedding are one of the greatest words because of the inclusion of the divine. You can make someone's wedding day very special by sending some of these words to them.
69. May God grant you peace of mind as you begin a new life with your partner today. Happy wedding day!
70. Congratulations to you! I wish you God's divine favour, protection, providence and many more, this day and every day of your life. Amen.
71. Congrats! May God continue to grant your heart desires and bless you with your lovely spouse. Amen.
72. As you start this new journey of your life, may God guide you and may He keep you for the sight of the evil ones. Amen.
73. This is a great news indeed! We are extremely happy for God's blessing in your life. May we always rejoice with you with good health of mind and body. Amen.
74. We see God's blessing in your life. This is an evidence. May God's face shine on you, and you shall be a light to your new home. Amen.
75. Happy married life, my Dear! May He who has done it for you give us more happiness in your life.
76. Happiness and love shall locate you. You shall not cry over your marriage. May God's miraculous blessings be with you both now and forevermore. Amen.
77. May the joy that blossom your heart never cease as you go into your new home in Jesus' name. Amen.
Related: Sweetest greetings for the couple on their wedding day
Blessings for Marriage Couple
78. You shall not only be loved by your beloved but also by your in-laws. There shall be no disparity between you and them in Jesus' name. Amen.
79. Marriage consists of ups and downs. May God increase the joy in your marriage and strengthen you over every challenge that comes your way. Amen.
80. The Bible says a man will leave his family to meet his wife and they become one. May God strengthen the bond between both of you and give you long life and prosperity. Amen.
81. I give you the best wishes in this world. May all marriage blessings be yours both now and forevermore. Amen.
82. You are one in a million. You have proved yourself as a true friend to me. May the affection of love and thanksgiving for your newly-married life always grow in happiness and truthfulness. Amen.
83. It is indeed graceful to witness one of your happiest day. I wish you a happy marriage with love and peace. Amen.
Message to Newly Wedded Couple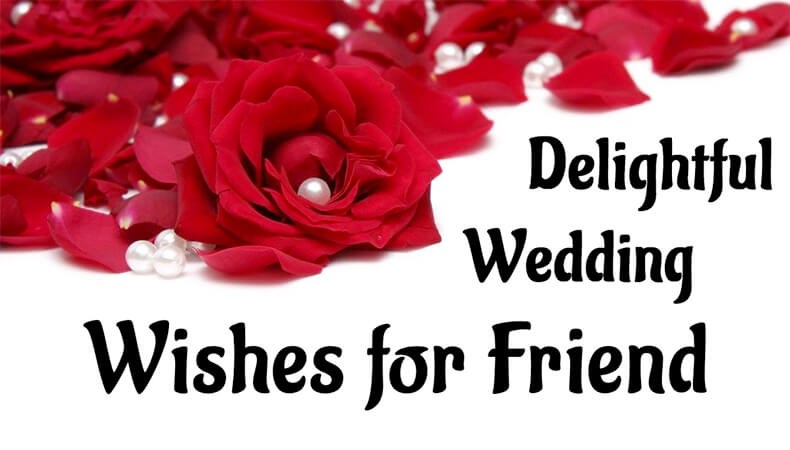 Are you searching for a sweet message to newly wedded couple? It is not easy to write a standard quality message with affectionate words but you don't have to worry.
Hurry to stroll down with gleaming eyes for a wonderful message to newly wedded couple of your choice and send it to any couple you know. The wedding messages to couple are filled with enormous love and smile.
84. You have got a perfect match for yourself. May God hasten your beautiful and handsome babies to you so we can celebrate round about. Is it too early for that? I just want to say congratulations on your marriage.
85. Happy marriage to you! Your marriage is an amazing one. I'm sure there is more good news to come. Congratulations, Dear!
86. Congratulations to you and your lover. I wish you a happy married life and an unforgettable memory with intense joy. God bless your togetherness. Amen.
87. It's fun to be single but awesome to be married. I rejoice with you for your new phase of life, and I pray for God's abundant in your life. Amen.
88. It is certain you are scared about your decision of marriage, but you don't have to worry. I'm sure you've made the right choice. I wish you good luck in your marital life.
89. Weddings are one of the best celebrations on earth. It is a celebration of love and its effect on two wonderful creatures. Happy wedding to you! I wish you many more marriage anniversaries to come.
90. I pray for a loving partner. Your marriage is a perfect match with intense love. I know you will do great things together. May God make your marriage a joyous and long lasting. Amen.
91. May you be filled with happiness and fruitfulness. They are the greatest attributes in marriage. Don't worry about other attributes for God has prepared them for you
92. Out of the three simple words "I love you," love is the greatest. May your love for each other continue to increase with peace and trust.
93. Marriage is an emotional state of happiness. Trust me, you will have fun. Marriage is as sweet as honey. May God increase your happiness and dissolve every sadness in your marriage.
Blessings to Newly Wed Couple
94. Your partner is lucky to have you. I was very glad when I heard the news about your marriage. I glorify God for you and appreciate His goodness in your life. Have a wonderful married life.
95. This is a great day. The love of my life is going to be someone else's. It is truly a great news. May God bless and keep your marriage.
96. What next? Kids? Honeymoon? Anniversary? Different things keep popping up in my mind. Oh, is it so soon? No, I don't think so. You're a light in the shining star. Go ye, my beloved! And shine in your new home.
97. Clear the way!
A king is getting married
Clear the way!
A princess is becoming a queen.
Does love exist?
Yes, it absolutely does.
May God bless your journey of marriage.
98. Congratulations! Time has rolled to the expecting day. I thank God for the days that had passed – days of singlehood and struggle. May your upcoming days be filled with peace and happiness. Amen.
99. I'm persuaded that Lord who has brought and established you together will keep you together. No force on earth shall be able to frustrate your union. Amen.
100. Your union shall be an abode of peace, joy, abundance and solitude. You shall be made great on the earth. Amen.
101. The good Lord will be with you and give you peace round about. His blessings shall made visible in your marital affairs. Amen.
Do share these Wedding Messages to Couple with family, friends and loved ones.