83 Overall Performance Comments, Evaluations and Appraisals for Staff or Workers
One of the best ways to keep your employees informed about how well they are doing and what needs to be done better is by providing overall performance comments. Although it is believed that performance evaluation or comment could lead to anxiety in the employee because most employees don't always trust their employers to provide constructive overall comments on their performance, however, that doesn't mean that employers shouldn't use both positive and negative overall performance comments to boost employee performance.
Hence, performance comments must be as constructive as possible. Although it's not enough to only give comments, studies show that employers need to talk to employees about their strengths and what they bring to the table as much as they do what they need to improve.
Giving a constructive overview of the overall performance of your employers will surely wake them up to duties and discharge any function that is expected of them. This is always important for any organization that wants progress. Whenever you see a great performance, give your applause to the performer, and whenever you an under-performance, constructively criticize. This will improve the organization.
Are you looking for the right examples of comments to express your feelings to your employees? This article features several overall performance comment samples which will greatly help you with that. Read on to explore ;
Overall Performance Comments
1. You have delivered an excellent job. You have brought great honor to this organization. Keep up the good work. More is expected from you!
2. We are so proud of your performance over the past few months. I so much appreciate your hard work and commitment. Well done, you have been doing well, keep it up.
3. Your commitment and dedication to your work have been impressive. I'm so proud of the work you are doing. Keep up the good work, your rewards are on the way!
4. I have gone through the tasks you executed over the past few months, and I've observed a consistently detailed and excellent presentation. You have done amazingly well, and I'm proud of you.
5. Your overall performance has been quite impressive. You have shown nothing but true commitment and dedication to your work. Keep up the great work. Your great works are recognized and appreciated!
6. It's amazing to see you get to this level in just a few months. I appreciate how you learn so fast and are open to corrections. You are doing excellently well.
7. I'm so excited by your performance today. You have proven that sometimes, hard work, dedication, and commitment can beat experience. Keep up the excellent work.
8. You have proven yourself to be an excellent employee on so many occasions. I'm highly impressed by your overall performance. You've done so well and you will always be appreciated for this unique performance!
9. I appreciate your effort in making sure that the company stays relevant in the digital marketing industry. Your performance has been highly impressive.
10. I'm so glad and highly impressed with your performance. It shows how hardworking and dedicated to your responsibilities you are. You have been a great example, please, keep it up!
Overall Performance Comments Sample
While writing comments on overall performance, it must be personal and specific enough so that the employee will understand exactly what they have done well and what needs to be improved. Failure to do this can leave employees feeling confused, or worse, that their employer is simply being petty and doesn't care about their efforts.
The next few lines feature some overall performance comment samples to give you an idea of how an effective overall performance comment should be crafted, whether in the area of improvement in performance or the area of praises and commendations.
11. Your overall performance has been so encouraging. I want to specially appreciate you for your dedication and commitment to self-development.
12. It's so exciting to have an employee who has got so many skills, talent, and experience like yours. You are a great asset to this organization.
13. You have been performing excellently well ever since you were employed in this organization. I hope you'll keep it up.
14. Your overall performance has been so encouraging. I'm glad I decided to get you on this team. Keep up with the energy.
15. Among my employees, you have been one of those who have consistently delivered an excellent job. I'm so proud of you.
16. Your daily performance report has shown how little everyday habits sum up to be our final result. I'm impressed with how you go about your daily activities at work. This explains why your overall performance is so excellent.
17. Keep up being loyal, hardworking, and dedicated to your work. It's so evident in your overall performance. I'm super proud of you and your contribution to this organization.
18. You have helped this company hit its target on different occasions. I'm so glad to have you as part of the executing team. You are so exceptional!
19. Kudos to you on your excellent delivery of the task. You represented the company well, and we are so proud of you.
20. You have shown your undaunting support and loyalty to the growth of this organization. Thank you for doing so well. I'm impressed by your overall performance.
Related topic: amazing feedback for a company
Overall Performance Summary Comments
21. It's evident that you are trying all you can to make sure that the company gets the best of you. That's an incredible thing to do. Well done!
22. You have done so well from what I can see in your report for the past few days. I'm highly impressed and I want to commend you for your effort.
23. It's nice to see you improving on your job over time. It's a great encouragement for me and I wish you all the best.
24. You've done so well in your delivery, I hope you'll maintain this energy till the end of the financial year. I so much appreciate you.
25. Your overall performance has made me so impressed with you. Thank you for helping this company meet its target. You are amazing.
26. You have now become a hard worker and a committed employee. You have been performing well over the past few months. I am proud of you.
27. I hope your fellow employees would imitate your good example. Your overall performance is plausible and highly commendable.
28. You deserve special appreciation for your overall performance. Keep up the good work, your reward is here.
29. You are well vast in your work and you have proven yourself worthy of promotion. Keep up delivering excellent results. I'm super proud of you.
30. Having you as one of the employees is such an amazing thing. You have contributed so much to the development of this organization. We are so grateful for having you.
Related topic: examples of positive feedback for managers
Comments For Overall Performance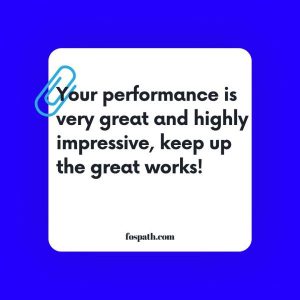 31. Your work has always been detailed and highly delivered on time. You are highly efficient and I'm so impressed.
32. The way you communicate and work effectively with your team members is quite commendable. You've been a goal-getter and a great team player. I appreciate you.
33. You've always been helpful to your colleagues. This is an excellent quality that has helped the team get the job done on time. Thank you for being so amazing.
34. Your dedication to work and attention to detail has been one of the remarkable qualities that have helped us greatly in delivering excellent jobs to our clients. You are such an awesome employee.
35. You are a great asset to this company. You have delivered so much value to this organization and we are so proud of you.
36. You are always punctual at work, and you are never absent for no genuine reason. You are such a good example to your coworkers. Keep it up.
37. You are very creative and detail-oriented. I appreciate how you are always ready to share your knowledge with your team members. Keep it up.
38. Your commitment to work and passion for excellence has been of great help in driving your team to success. I'm very proud of you.
39. You are always bringing new ideas and or offering solution ideas to every challenge the company might be facing. You are just super awesome.
40. Your system of leadership among your team is so inspiring. I appreciate you for being such a great team player.
Performance Evaluation Comments
Research has shown that there is a great connection between sharing positive feedback and high engagement performance among team members; high-performing teams were found to share positive feedback six times more than the averagely-performing team. This shows how a well-crafted overall performance comment from an employer can help an employee's productivity.
41. One of the greatest strengths I've observed in you is your ability to manage multiple responsibilities and deliver excellently. This is a wonderful skill, keep it up.
42. I hope you will imbibe the right culture of time management so that you will be able to meet up with your schedule and deliver a good job on time.
43. I hope you will develop your problem-solving skills by taking your time to consider and analyze potential solutions before taking action on one.
44. I was very impressed with your contribution while the team was working on this project. You've got a great knack for working with others to bring out the best in every situation.
45. Your customer relationship skill is top-notch. I'm highly impressed by how you always follow up with customers to ensure they are having a great experience with our product. This has greatly helped our sales. Well done.
46. You need to improve your customer relationship. Ensure you are intentional about following up with your customers and showing how ready you are to help them. This will help in your customer retention.
47. You are very proactive and always look out for ways to improve your delivery. This is a laudable effort. I appreciate you for this.
48. Your tenacity and consistent effort in giving your best despite challenging situations are quite incredible and impressive. Keep up being excellent.
49. I feel so excited about your excellent performance. You made the task look so simple and achievable. Keep up the good work.
50. You've done so well by carrying everyone in the office along and motivating them to do their best. You are a good team player, and I appreciate your effort.
Related topic: positive words for coworkers
Overall Comments On Goal Achievement
51. We've been able to hit the target through your hard work and commitment to your responsibility. I want to specially commend your effort on this. I cannot but say thank you!
52. Though the goals looked unrealistic, through your effort and commitment, we were able to record huge success within a short time. This is a highly impressive feat.
53. The success of the company is hinged on your great dedication to work and your intellectual skills. You are a huge asset to this organization. I appreciate you.
54. I appreciate how you always go out of your way to ensure a task is properly executed. You have proven yourself worthy of commendation.
55. I want to let you know that the management recognizes your effort and commitment to the success of this project. The team was able to achieve this goal through your commitment.
56. I'm impressed that you were able to set this challenge for yourself and complete it. This is a great achievement. Congratulations!
57. The target of this organization has been hit several times all by your effort. Thank you for being committed to your responsibility.
58. I want to thank the whole team for this great achievement. This will greatly help the company in its rating in the industry. Kudos to you all.
59. I'm highly impressed by your performance. You exceeded my expectations by completing the task ahead of the deadline without compromising on quality. You definitely deserve some accolades.
60. Thank you for volunteering to take on additional work for this project to ensure that it was a success. You made it easy to achieve our goals.
Related topic: examples of feedback for colleagues
Positive Overall Performance Comments
61. You have been a source of inspiration to your fellow workers. I'm so glad to have you as part of this team.
62. You're always eager to suggest new ideas and practices that will help the team be more productive and record more success. This is quite good of you.
63. You've got the right vibe and contagious energy that motivates everyone in the office. Thank you for being so helpful.
64. You are always willing to share your knowledge and help, even when you've got tight deadlines to work with. Your coworkers speak highly of you, and that is quite impressive.
65. The way you are always able to handle stress is so incredible. This is an amazing value that has helped you meet up with tight schedules and short deadlines.
Productivity Appraisal Comment
66. Your level of productivity has been quite amazing. You are really working hard to make sure you stay on top of your game. Keep up the good work, you will always be appreciated.
67. The way to deliver your job excellently within the time frame is worthy of commendation. This is highly remarkable.
68. Your productivity level has increased over the past few months, this is a laudable development. I appreciate you.
69. I observed that you have been working so hard to meet the target for the year. I want to encourage you to keep it up as it has greatly improved your overall productivity.
70. You have covered a lot beyond what was expected within this time frame. Thank you for being so productive. I appreciate you.
Quality Of Work Appraisal Comments
71. The quality of work you delivered shows how hard you've worked and how well you've mastered your skills. This is an impressive performance.
72. From the quality of work sent to me, I can easily tell that you are very committed to delivering an excellent job. You've done a good job and you must be appreciated for this.
73. The quality of this job is so excellent. I'm highly impressed by the details captured in it. This is an incredible job and a fantastic performance.
74. You always deliver a very good job without exceeding the time limit. You've proven yourself vast in your skill.
75. The quality of your work tells that you pay attention to details and you have eyes for good color. Great job here. Kudos!
Communication Appraisal Comments
76. You've got great communication skills and an excellent work ethic. You are one employee who listens as much as you suggest. I appreciate you.
77. You've proven yourself to be smart, effective, and interesting to work with. You are super amazing.
78. You've got excellent skills in communicating the company's message to our target audience effectively. You are a rare gem.
79. You've proven yourself to have a good knowledge of public speaking skills, this has been a very helpful marketing tool for the company.
79. You are very articulate, persuasive, and engaging. This is a great communication skill and I appreciate how you use this amazing skill in helping the company.
80. The kind of quality you possess is so great and worth keeping. We appreciate your personality and what you represent in this company.
82. Your effectiveness in customer relations is second to none. You are the best among your peers and we will encourage you to keep up the good work.
83. Your contributions are appreciated and will always be compensated. We encourage you to keep following the path of diligence!
Feel free to share this with those who might find it helpful. Should you have any comments? Feel free to drop them in the comments section below.