51 Positive Feedback For Colleagues Examples to Motivate Them
One of the things that helps an organization to grow is good feedback. It is always very important to hear from the third party how well you have been doing over time. The best-proven strategy to encourage your colleagues at work is positive feedback. This will help them a lot beyond what you can imagine! You wouldn't be on this page if you are not looking for positive feedback for colleagues examples!
It is good to have colleagues who are well-paid to get the job done. Everyone who works deserves to get a commensurate payment. This could be in form of wage or salary as the case may be. But higher than this is periodic words of appreciation to further motivate your colleagues at work. This is why you have positive feedback for colleagues' examples to help you appreciate your colleagues correctly!
You would never know that your colleagues could perform better at work until you structure words of appreciation to say thank you. As you learn to make do with positive feedback for colleagues examples, you will be very surprised at how far your colleagues will be going at work in driving your organization's visions.
Human nature responds to positive comments, if you want to get the best from somebody, water them with words of appreciation and affirmation. To learn how to say good things about your colleagues to learn how to move your firm forward very fast. Try using positive feedback for colleagues' examples and you will thank me later.
1. Your job delivery is so excellent. You are a great analyst and I so much appreciate you. You are doing excellently well. Keep at what you are doing, your work is recognized and highly appreciated!
2. You are such a great team player. Thank you for making this task easy for us to execute. I appreciate your effort and your contribution to us!
3. Going through the report you sent, I can say you are a great strategist and I salute you for this. Well done, Dear, you have been doing a great job!
4. Your daily investment in yourself has earned you this great achievement. I highly commend you for your effort and hard work. Keep it up, you are doing well!
5. You have performed excellently well. The level of investment in your presentation was so great, Keep up the good work. Your presentation was phenomenal.
6. Your presence on the team is such a great blessing to all of us. Thank you for your excellent contribution. You are appreciated and highly recognized!
7. You have gone the extra mile to ensure we achieve this great feat. Thank you for your massive contribution. You are highly appreciated.
8. I'm so proud of everyone in this company. We've all put in our best to make sure we stay on top of our game in the industry. Keep up the good work guys!
9. You all performed excellently well, I'm so glad for the opportunity to be a member of this great team. I couldn't help but appreciate you all.
10. It's so amazing to have such great colleagues like you. I'm happy we were able to meet our target and achieve this great success. You are all incredible and exceptional.
Related topic: quotes of appreciation for employees from the manager
Giving Feedback To Colleagues Examples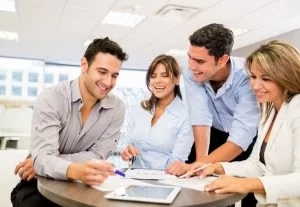 As much as it is good to give great feedback to colleagues at work, it is also important to know how to do it. It is good to do a thing but is better to do it very well. I have helped you in compiling a list of positive feedback for colleagues examples to help you send your feedback intelligently!
11. You have done a great job in making sure we all hit our target for the year. This is such an applaudable feat. We cannot appreciate you very much enough!
12. I'm so proud of you all. This is a win we must all celebrate. Cheers to greater achievements ahead of you. Keep at what you are doing, your rewards are certain!
13. Being in the same workspace with you has changed my orientation about this job. I now find the job more exciting than ever before. Thank you, guys, for being a great encouragement!
14. I'm glad I have you as my coworker. Life feels better, and work feels more enjoyable. Thank you so much for being so amazing.
15. Being among great talents could be thrilling. Thank you for the opportunity to work with you without stress. You are the best coworkers I could ever pray for. It has been very nice working with you!
16. The workplace is now that place a find solace and inspiration. I've got the most amazing coworkers. I appreciate this greatly and I will never take it for granted.
Useful link: how to appreciate someone in words
Constructive Feedback Examples For Colleagues
17. I do not take this privilege for granted. I'm blessed with the most understanding and hardworking colleagues. Thank you for being so amazing.
18. Thank you for being supportive. Your cooperation with one another has gone a long way in making this workspace to be an exciting place to be. You are all amazing.
19. Such an incredible action from you all. Thank you for always delivering the best. You are simply awesome and supportive.
20. If I've got the option to always select my coworkers, I will select you over and over again. We make such a great team and our wins have been a result of the cumulative contribution of each member.
21. I find my encouragement and support in you all. You are more than colleagues to me. Thank you for being my family.
Related topic: appreciation message for being recognized at work
Negative Feedback Examples For Colleagues
22. You have been arriving the work late for the past few weeks. Please understand that this is quite unacceptable.
23. I observed that you haven't met any of your financial targets this financial year. I just want you to know that I understand that this is not easy. However, I would also like to know if something is bothering you and affecting your productivity. Please, don't hesitate to let me know if anything is bothering you and how I can be of help.
24. I notice that the reports you sent are not organized and lack some details. Unfortunately, I won't be able to work with it that way. Please check it again and make the necessary corrections.
25. The presentation was awesome, however, the diagrams are not clear enough, and might be hard to understand the message you are trying to pass across. Would you mind checking that out and working on a clearer diagram?
26. Your daily task delivery has been very low for the past few weeks. Is there any challenge as regards your delivery rate? Please feel free to reach out to any of the team members if you need any assistance so that we'll all be on the same page.
Related topic: appreciation message for being part of a team
Positive Messages For Colleagues
27. You have always been a great team player. Thank you for carrying everyone along. You deserve some applause and appreciation.
28. Working with you has helped me learn how to rely on my strength. Thank you for being my amazing colleague. I can't just do without you!
29. You are the best when it comes to excellent presentation. You've done are a great job again. Kudos!
30. Great presentation, from a great colleague doing a great job. I appreciate you so much, dear. Well done!
31. I was challenged by your results. I'm inspired to do more. Thank you for stirring me up to dream bigger. I appreciate you.
32. Thank you for always being supportive and encouraging. I am blessed to have such a wonderful colleague like you.
33. I remember the day you held my hand and encouraged me not to give up on my dream. This has kept me going and I will never forget those kind words. You are more than amazing.
34. Your level of hard work and commitment to your worker is a pointer to the fact that your success is sure. Keep up the good work!
35. I want to use this medium to appreciate you all. It's such a great blessing working with you, now I'm bigger and better. Thanks for inspiring me.
36. I appreciate the great job you are doing. You are the most amazing colleague one could ever have. I'm grateful for this opportunity to work with you. Let's keep it going!
Related topic: appreciating someone for their work
Best Message To Colleague
37. Your everyday support and words of wisdom mean a lot to me. Thank you for being the most helpful colleague I could ever wish to have. We make the best team.
38. Thank you for always sharing your professional knowledge and experience with me. It's such an exciting feeling to have such a helpful colleague like you. You are amazing.
39. It's such a great experience working with someone like you. I consider myself truly lucky. Thank you for making such a huge impact on the life of everyone and for always contributing your best to every activity in the office.
40. Work can't be more inspiring. Having you as a colleague hasn't only taught me hard work, but I've also learned how to live a well-balanced and wholesome life from you. Keep being an amazing, friend.
41. Even in situations when things seem to be getting out of hand, your calm demeanor and professional approach are so inspiring. It's a great privilege to work with you, there is so much to learn here.
42. Thank you for always supporting me in the company. Your love and support have helped me so much in this journey and I'm truly grateful. You are such a fantastic colleague.
43. Seeing you as a member of my team gives me so much confidence. I admitted your skill and level of expertise. It's such a privilege to have you as a colleague.
44. I'm always grateful for your invaluable support and contribution to my growth in this company. You are such a great blessing to me. I appreciate you.
45. I love the fact that I have someone I can brainstorm with. Who has got so much talent and can bring value to the table? You are such an excellent colleague. I appreciate you.
46. Your multitasking ability is top-notch. I admire your agility and excellent work delivery. You inspire me to be more. I appreciate you, my excellent colleague.
Poor Performance Report Sample
47. I observe that you have been having difficulty combining your daily tasks. The performance level has dropped remarkably and it's telling on the overall company's result. Would you mind us having a discussion to review what might have been the cause?
48. You seem to be having a hard time focusing on your work these days. Your reports have been disorganized and very hard to understand. Is there any problem? Remember you can reach out to any team member if you need any help.
49. The records have shown that you are yet to meet that expected target for the past few months. This is so unusual of you. I just want to be sure all is well with you, and would you mind if we talk about this?
50. The clients' feedback gotten about you hasn't been quite impressive, and I understand that this might be due to various reasons. However, I hope you realized that this is causing great damage company's reputation. Would you mind discussing what is going on?
51. Hi, thank you for the presentation today. The ideas sound great. However, your presentation seems poorly arranged and the thoughts seem incoherent. Next time, you might want to go over your presentation materials again before entering the board room, just so that we'll have a smooth session together. I look forward to a more excellent presentation from you.
I hope you found this article on positive things to say about a coworker helpful. Feel free to share with those that would find it helpful. Have you got any comments? I will be ready to receive them in the comments section below.