61 Quotes about Sharing and Giving to Others
Giving is the greatest expression of love. You can give without loving someone but you cannot love an individual without giving. How best you'll show your loved ones and friends that you love them is by going out of your way and giving gifts to them. The quality of your gift often reflects the depth of your love. If you want to prove your love to somebody, you have to be a giver. Do you want to communicate your love effectively? Begin to share whatever you have no matter how little!
There is a blessing that comes with giving and sharing with your friends and neighbors. You'll never know the joy of living until you start sharing your resource with your neighbors. In quotes about giving and sharing, I will be sharing some insight about giving with you. If you will learn how to give cheerfully, then the blessing that follows will accompany you.
No one truly started living until he started making others happy. When you make others happy, you cannot also lack joy in your life. One of the ways you make others happy is by sharing your substance with them. Quotes about sharing and giving show you the importance of giving to your neighbors.
Do you need some insightful quotes about sharing and giving to encourage you to be a blessing to someone? I have piled good numbers of them for you on this page. Whatever you learn on this page can be applied to life. If you will do as you learn, you will be able to enjoy living with everyone around you. The best way to be happy is to live to make others happy.
Quotes About Sharing And Giving
1. The scripture says, Give, and it will be given to you. A good measure, pressed down, shaken together, and running over, will be poured into your lap. For with the measure you use, it will be measured to you." – (Luke 6:37-38). Whatever you give will always come back to you in a greater measure!
2. If you are a perpetual giver, One of the greatest benefits you'll enjoy is that feeling of total liberation you experience in your soul. Your soul will leap for joy as you make others happy by sharing your substance with them.
3. Make this your value; never take to heart what you have given and never forget what you were given. Giving doesn't reduce whatever you have, it only multiplies it.
4. Interestingly, giving comes before receiving. Before you receive, you must give as giving is what opens the doors to receiving. Heavens are never shut upon a giver.
5. It is more honorable to give than to receive. The joy of receiving lasts for a moment, but the joy that comes from giving is for a lifetime. If you will live as a giver, there is nothing that will be withheld from you.
6. One of the greatest secrets to becoming rich is by giving. You cannot be a giver and be poor. If you will always let the money flow in your hands as current, trust me you will always have more than enough.
7. True happiness is not gotten from being the receiver. We get true happiness from being the giver. Giving makes the receiver very happy which in turn makes you reap joy as your harvest with plenty of resources.
8. We've all got something to give. Far beyond money, a simple smile, or an act of kindness can go a long way in touching the lives around us. There is nothing fulfilling like leading a life of impact.
9. Giving is not dependent on the weight of our purses. Sometimes the greatest givers are those with the leanest purses. It is not the strength of a purse that makes one a giver but the cheerfulness of heart.
10. The essence true of our lives doesn't depend on what we get but on what we give. Anyone who desires to end well must consciously cultivate the attitude of giving. No matter how little, just be a giver!
Relevant topic: quotes about moving forward
The Spirit Of Giving Quotes
11. The scripture says, it is more blessed to give than to receive. Quotes about sharing and giving will educate you about the blessings that can flow to you through this attitude.
12. True giving is not in giving of your possession. True giving is about giving off yourself. If you have a heart that gives, you will always give regardless of how inconvenient it might be!
13. The secret to staying happy is not about getting more but rather about giving more. And according to divine order, when you give more, you will always get more!
14. It is in finding your gift that you find the true meaning and essence of your existence. It is in giving away your gift that you fulfill the purpose.
15. No gift is small, a gentle touch, a listening ear, a kind word, and a friendly smile can all make a difference. When you increase your gift, you increase the number of people praying for you and you reduce your enemies.
16. The key to becoming the happiest is by giving yourself to doing the most for others. If you live for others, you will always have what it takes to care for others.
17. When you help, do it without any reason, and when you give do so without expecting anything in return. It is good to do good to those that can pay you but it is far better to do good to those that cannot pay you.
18. Nature has given us everything freely. The only way to pay back to nature is through our service to others. Giving is one of the best ways to show that you are grateful to God for all He has given you.
19. No matter how little or negligible. Every giving counts. If it were not there, something would be missing. Do not desist from giving because you feel you have little, rather give no matter how little.
20. He who has the spirit of giving has got the spirit of wealth. The path to greatness is service, and the path to wealth is giving. If you walk on this path, nothing will be withheld from you.
21. If you are committed to always pursuing the good of others, you have succeeded in securing your future good.
Relevant topic: quotes on winning attitude
The Joy Of Giving Quotes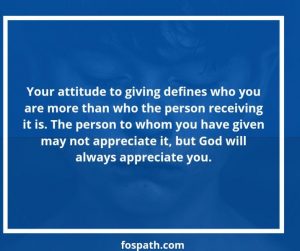 22. Your attitude to giving defines who you are more than who the person receiving it is. The person to whom you have given may not appreciate it, but God will always appreciate you.
23. The most precious thing you'll have to give might be your time. If you can go out of your busy schedule to render a service to someone and make them happy, it may mean more than a billion.
24. Whatever you have successfully gained from the world, the least you can do is to give it back to the world in equal measure.
25. Every little act of kindness counts. No matter how small, it will never go to waste. Expect it, it is coming back in hundred folds.
26. You'll become a more willing giver when you see giving not as an obligation but rather as a privilege. If you see giving as a pleasure, you will always be at the giving end.
27. When you have got that most cherished treasure in life, the best way to keep them is to share them. You can always put a smile on the face of others by sharing whatever you have with them.
28. The gift of a man makes way for him and opens before him imaginable doors. You don't know what you have given today that can open more doors for you.
29. Strive not in receiving, but in giving to others, as this is the way to unlock the doors of happiness. The more you give, the more you enjoy divine blessing towards you.
30. The best way to measure how successful your day went is not by the number of what you received but rather by the number of seeds you planted by giving to others and going back home with joy.
31. The biggest way to show love is by giving. Though giving doesn't equivalent to love, love can be equivalent to giving.
Sharing And Giving Quotes
32. If you are lucky to have, never hesitate to give. And interestingly, we all have something we can give or share with others no matter how small it may be.
33. Most times, you have not truly given until when that giving hurts. Giving pains before it pays!
34. The surest way to find happiness in the days to come is when you give your all to the present.
35. The most generous and true giving comes from those who give silently without waiting for the praises of others.
36. Being a giver doesn't always mean a full hand, but it's definitely a full heart, ready to reach out to others. If your heart is full of giving, your hands will be full of resources to express it.
37. Give unto others, share, and never hold back. Not only those you know but also to whom you had no prior connection.
38. You start living your best life the day you start giving to someone you know can never repay you. If you will be a blessing to someone that cannot pay you, someone that you cannot pay will also be a blessing to you.
39. Be the light in someone's life. Be the better future they look forward to. This is the key to living a meaningful life.
40. Your true wealth is not in the stuff you stack up for yourself, your true wealth is in the stuff you give out to others.
41. Sometimes a simple act of kindness is more powerful than thousands of wishes mere promises.
Relevant topic: quotes on winning mentality
Quotes About Sharing Blessings
42. Whenever you are giving, do it cheerfully, and when you are receiving, do so gratefully. This is the way to be blessed and keep blessings flowing toward you.
43. Never hesitate to share your blessing. The best way to preserve your wealth is by sharing it.
44. Let generosity be your way of life. Never hold back on whatever you are and have. This is your way of demonstrating God's love to men.
45. The most enjoyable blessings are the ones we have someone to share them with. Share with someone today and you will be surprised at the blessings coming to you.
46. The true foundation of friendship is sharing. There is no meaning to friendship without sharing. True friendship has not started until sharing begins.
47. Sharing happiness or treasure doesn't decrease it. It is a life of selfishness that leads to loneliness and boredom.
48. A simple smile on your face is a great way to invite those around you into your caring heart.
49. The blessings the Lord has put in your care are not for you to keep all to yourself, but to demonstrate God's kind of love to those around you.
50. To enjoy an abundant life, you must learn to care for others, go the extra mile for others, and share with others.
51. Through comes from sharing whatever you have. There is no joy in owning anything that cannot be shared.
Quotes About Giving To Others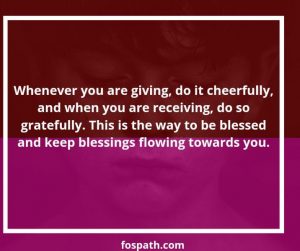 52. Be that person whose dream is to share whatever he has with whoever is there.
53. You don't have to be asked before giving to others, as a matter of fact, a gift that comes after you are being used is almost late already.
54. Don't wait to wish for blessings, be the blessings people wish and pray for. Be someone's answered prayer too.
55. The value of a gift is not in how much it costs, but in how much love is put into the giving.
56. Be always ready to give a helping hand. You might be the only one who does that.
Love Is Giving Quotes
57. True love is proven by giving, whatever is not with your gift is not worth your love.
58. Your gifts speak volumes about the state of your heart. Whether you give or withhold, it all speaks about the kind of person you are.
59. Interestingly, sharing doesn't diminish what we have. The truth is, the more we share, the more we have.
60. There is always a faster way to being wealthy, it is by sharing your blessing.
61. The best way to grow your love is by sharing it with others. To enjoy more love, you must give it out to others.
I hope you found the article very useful. Feel free to share with your loved ones, and don't forget to drop your thoughts in the comment section below.