I Love You So Much My Love Messages | 51 Love Words for Husband or Wife
Among all the good things of this world, Love is the greatest. Wealth, fame, and success are all good but very incomplete without love. Life is beautiful having the right person in your life to love.
Being in love with the right person is the real beauty of life. When a woman finds a lover, she's committed to such for life and she wants to use everything she's got to communicate her love to the man. I love you so much my love messages from the heart help you communicate your intense affection to your man.
There are very cute ways you can communicate your love to the man/woman your heart truly cares for.
I know you want to let him know that you love him and you may not have enough time to put messages together to communicate your feelings to your lover. I have helped you gather love messages for him or her. Copy and send as many as possible.
Needful resource: prayers to offer your spouse in the morning
Things to Say to Your Husband to Make Him Smile
To be a husband takes a lot of responsibility. The husband is a good Shepherd that protects, provides, and gives moral standards to the family. The husband serves as the driver of the home, which is why it's good to say good words to your husband that will make him smile.
Men are always committed to their responsibilities as long as they're appreciated. I love you so much my love messages for him from the heart are an effective way of showing your appreciation.
1. Dear Sweetest husband in the world, what a beautiful feeling it is to be in love with you! The thought of being in love with you is healthy for my bones. I'm excited I'm in love with you.
2. The peace that fills my heart knowing that I'm in love with you cannot be compared to anything else in this world. I call you sweetheart because you're truly sweet in every way.
3. Every time I look at you, the expression of joy and attractive smiles I get from you often arrest my heart. What a lovely feeling having you as my own!
4. Your supportive and protective nature strengthens my sense of security in you. I know I'm safe in your arms.
5. Every second of the day makes me know how blessed I am to have you as my husband. Thank you for being mine!
6. I'm always proud to call you my one and only husband, your space in my heart is reserved just for only you. I love you too much to share your space with any other person.
7. I can't stand the thought of not having you in my life. You're the one who has been designed to complete and complement me.
8. Great memories we've shared make me smile all day. After I have been with you, I yet want to be with you again. I can't be tired of you. Thank you hubby for loving me.
9. You are the greatest blessings I have ever had. I cherish you more than any other. You're indeed the greatest blessing life has ever offered me.
10. It is always a great joy to me to see you in a good mood. Your happiness is my major priority in Life. I love you for the rest of my life, Dearest.
Helpful for your relationship: Morning greetings for her
Love Words for Wife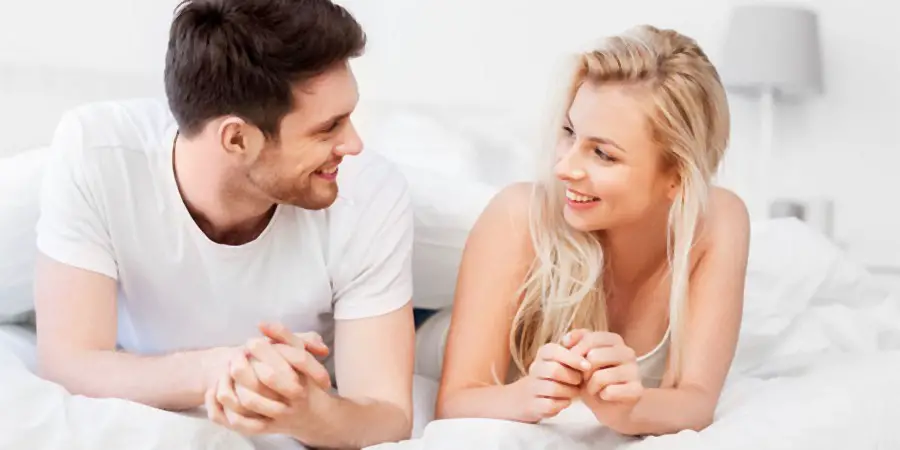 As it is commonly said, a happy wife is a happy life, happy woman is a happy home. Making your wife happy is making your life happy. One of the most effective ways of getting this done is by sending love words to her as your daily duty. Below are love words to make your wife happy to any length you wanted. Everything is at your disposal.
11. With you, my life is beautiful and awesome, no one else could have been proficient enough to give me the beautiful feelings I have been with you. I love you, my Darling wife!
12. You are everything I have always wanted in a woman, you're a perfect representation of womanhood. I love you not a little!
13. Calling you my Queen, my princess gives me some inner joy because you've proven yourself to be so over the years. Keep being true to your duty in my life.
14. You are the answer to my prayer, it's obvious God brought you, my way. My life is best lived with you. Thank you, Darling.
15. Your smile is the most amazing thing I have ever seen. It sends beautiful feelings down my nerves and activates excitement in my bones. I love you, my Princess.
16. You are stupendous, great, generous, kind, and hospitable. I love having you around me all day. I can't get tired of you!
17. I can't stop loving you throughout my lifetime, I'm committed to staying with you and love you even when it's least convenient.
18. Your love stays in my heart continuously, you're so sweet to my soul. Thanks for all the love.
19. All my fears were taken away, the moment I have you in my life. I can boldly look into the future and face it with absolute confidence. You make this a possibility!
20. I will always love you till the end of the earth, my love for you is infinite. I'm committed to you for life.
Encouraging Words for a Hardworking Husband
Being hardworking gives you the ability and strength to be independent and financially free. Diligence is the dignity of man. Having a diligent husband is not so cheap to come by.
If you have one in your life, such a one deserves encouragement. This you can do through a Love message to him from the heart to strengthen him and keep him going.
21. Darling husband, you are such an amazing personality, the extra miles you're going in making sure everything works well for the family is highly commendable.
22. Thanks for doing everything possible best to make me comfortable. I recognize all that you are doing to keep everything working. I remain in love with you perpetually.
23. Every time I see how busy you can be, makes me see the potential greatness that awaits you. Keep working, you'll soon be celebrated.
24. Keep moving on the path of success, you're designed to be successful. Success is an attitude, keep up with your good attitude!
25. I always admire you as my husband, you've always made me proud among all my peers. I'm blessed to have you as my own.
Love Words for Husband
26. Your commitment and your determination in building your family make me happy. Thank you for strengthening my sense of security in you.
27. You are such an excellent husband so devoted and purpose-driven. Thank you for being a good example to our kids.
28. I always enjoy every moment I spend with you which is why I always look toward spending time with you.
29. I believe in your dreams and your goals; I will always be there to give you the needed assistance. You have me as your backup always.
30. I'm always happy that you are mine, no one dares share you with me. I'm jealous of you more than ever. I love you.
Words of Appreciation to a Supportive Wife
The support of a woman is the impetus that keeps any man going forward. No man is truly supported until she has a supportive wife. Wifely support is the best support in the world and this should be appreciated with everything you have got.
31. Darling wife, I want to really appreciate the support system you have given me over the years. Thank you for being on standby and encouragement to me. I appreciate all you do.
Useful resource: compliment the beauty of your wife/girlfriend
32. Don't ever allow anything to drain your passion. Keep moving even when it's not comfortable. I will make you proud by being successful.
32. Thanks for being a devoted hard-working wife. I love this precious virtue in you and I'll always appreciate it.
33. The great decision that I have ever made is to choose as my wife, I will always support your dreams and visions just the same way you have supported mine. Don't get discouraged, keep standing by me.
34. As long as I'm with you, you will continue to stand upright and strong, and I will supply you with the necessary support you'll ever need to achieve your goals.
35. Nothing will weigh you down in the journey of achieving your dreams, I have you in my prayers every day. Be sure you cannot fail.
36. Every step you take brings you closer to your vision, it may not be so visible, but just believe it. You'll surely get your goals achieved!
37. You are a strong pillar and a strong leader that can never go down, you've built resilience over the years. You're so strong and amazing!
38. Your integrity makes me proud and enthusiastic about my decision to get hooked on you. I'm forever grateful for having you as my own.
39. Thanks for your honesty and truthfulness to yourself, your works, and to me. What a handsome soul you are! I'll keep loving you over and over again!
40. Thanks for being a strong woman in every situation, you're a true picture of a defendant and comforter. I love you so deeply!
Very needful: Make your lovers feel great with unconditional love quotes
Funny Good Night Texts for Him
Don't you think a hardworking husband deserves to laugh? You need to make him laugh as a way of helping him discharge the accumulated tension of the day. You're in the best position to do that and that's why you have funny good night texts for him on this page.
41. Oh amazing husband of mine. I suspected somebody was trying to share your heart with me at work today! Smiles, I'm just being jealous!
42. Do have a beautiful dream tonight, but do not see any other thing in your dreams apart from me. I'm the only thing that matters in your life! Winks!
43. Before you sleep dear, don't forget to always tell me you love me. If you don't do that, you'll not be able to sleep. Smiles!
44. I always think about how handsome and caring you are, I feel like eating you. Laughing! Anyway, that's how sweet you are to me!
45. I admit that you are the best thing that ever happened to me, but guess what? You're equally lucky to have me!
46. The treasure of my life, know that you will always be in my heart even in my dreams. You keep playing all sorts of music within me.
47. It's a great thing to have a good rest and memories with the beautiful thoughts of you in my heart. You are doing well!
48. Dear, you are the only one that matters to me. I love you so much that I have taken it as my number one job. Keep working while I keep working with you. Winks!
49. I remember that you offended me today and guess what you did? You're loving me just too much!
50. Because of the love offenses that you have committed; I have sent some mosquitoes to help me greet you. That's a way of saying I love you anyway!
51. You are the sweetest thing to me and my world, you make everything exceptional and excellent. Thank you so much for making me this great about my life. I love you, Darling!
Needful resource: best ways to make your relationship strong and lasting
LEAVE A COMMENT!