120 Marriage Greetings, Blessings and Wishes for New Couple
Marriage is an institution created by God himself for specific purposes. It's a pleasurable thing to be married. This is for the blessing of humanity and her world. Everyone who is married or about to get married deserves to be congratulated with marriage greetings and wedding blessing wishes.
However, weddings are one of the happiest and most joyous moments in one's life as one transit from singlehood into marriage.
I can see the smile on your face as you envision your wedding if you're yet to be married and also how you run down memory lane if you're already married because of the euphoria of it.
Weddings are a special and significant occasion that has got to be commemorated with some of the best, most exciting, and captivating wedding wishes. Marriage wishes and blessings on social media or sending wedding cards to your friends, family members, and newly married couples is the perfect way to congratulate them on their special day or wedding anniversary.
Here are some of the most well-versed, brilliantly composed wedding blessing wishes. Send them right away or make a wedding card for your near and dear ones. Make their momentous occasion more special by felicitating them on their wedding day and praying for a happy married life.
Best Wishes to Newlywed
Seeing your family member or acquaintances getting married is a very happy and sensitive sight to behold. Send some of these marriage greetings and best wishes to the newlywed on their wedding day and give them a memorable experience.
1. Marriage is the communion and alliance of two souls. The Conjunction of two hearts is only amassed by genuine and authentic love. Wishing you a happy married life, Sweet Souls.
2. Marriage is the blessing of the Almighty God. I expect you two will discover peace and happiness in life. May God bless your glorious union. Wishing you both an incredibly blessed married life.
3. May the pleasure and joy in your eyes today live with you through the highs and lows of marriage. Abundant good wishes for your new life
4. Remain true and genuine to each other and forever preserve your devotion to the blessings of God. May your life jointly be full of ecstasy and glee.
5. Allow the flowers of love to blossom in your heart for today and forever. You have earned a life full of happiness and cheers. Happy wedding celebration!
6. This day is the inception of a new chapter in your life. Wishing you all the love, joy, contentment, and happiness. Happy married life!
7. Watching two persons in love and learning happiness with each other is the best and delightful thing. Biggest Wishes to you!
8. Bringing my best wishes for the union of the couple whose love compels me to believe in love. Your union is blessed already!
9. Fabulous and amazing newlyweds, you are the most delightful couple I have ever seen, I wish all the happiness comes to you. The coziest Congratulations on the wedding!
10. You both look so exact as a couple that every time I see you together, I feel motivated. Congratulations to you both on your wedding.
Happy Wedding Day Wishes
11. You both have found an extraordinary spouse in each other. Never permit each other to stand deserted ever again. Enjoy an exciting post-wedding life.
12. Wedding life is constantly full of new tales and new happenings. Constantly conserve each other in your heart and let the enthusiasm of love overwhelm you.
13. You are the most charmingest couple I have ever seen. You both merit the biggest things in this world. Protect the happiness of each other. Have a joy-filled marital experience!
14. No concerns and skepticism anymore, let it be love from the beginning to the end. Make your marital life an essay of heaven. Happy wedding celebration to both of you.
15. God completely prepared both of you for each other. You look so precise with each other that it appears you've existed in love for a thousand years. I rejoice greatly with you!
16. I desire that you may never cease to be astonished by each other and never stop plummeting in love with each other. May your home be injected with happiness. Amen.
17. Wishing you both a lifetime of euphoria as you unite your joy jointly in the holy union of marriage. Best wishes to both of you.
Related post: best wishes for marriage life
Wedding Happy Married Life
18. Wedding congratulations messages are established on the proof that the two are going to begin a fresh life together and will expect all the goodwill messages they can get.
19. However, sometimes writing good wedding messages can be an undertaking, you may know what you want to write but phrasing them down in writing can occasionally be struggling. Well, don't worry about that now. Wedding happy married life got you covered to congratulate couples on their wedding ceremony.
20. Years may come and leave but your affection, devotion, and love will constantly prosper. Best wishes to both of you at your wedding.
21. May your matrimony be injected with all the beautiful ingredients of love and companionship. Congratulations on your wedding anniversary!
22. Hoping you have a lifetime of euphoria as you wed today and the union of marriage will continue to wax stronger. God's blessings are on you both.
23. I pray for your union to be injected with joy, devotion, passion, and confirmation. Have the cheerfullest married life, Dear.
24. May your union be crammed with the type of love and devotion that succeeds directly from heaven. Happy married life!
25. I pray to God that He leads the way towards a spirited and significant life. May your affection deepen through the years to come. Happy married life!
26. You have simply formulated the vivid representation of endless and infallible love in front of the public. May you both be cheerful in the prospective years ahead.
27. Allow the love to grow in your hearts on this momentous and special day. Congratulations to both of you for clenching on each other for life. Happy married life!
28. Congratulations to you! May you prosper and grow old together for the remainder of your life and develop a lineage together.
29. May your union be inoculated with the exact elements; a bundle of affection with romance, a sprinkle of humor, and mainly a spoonful of comprehension. Congratulations.
Marriage Day Greetings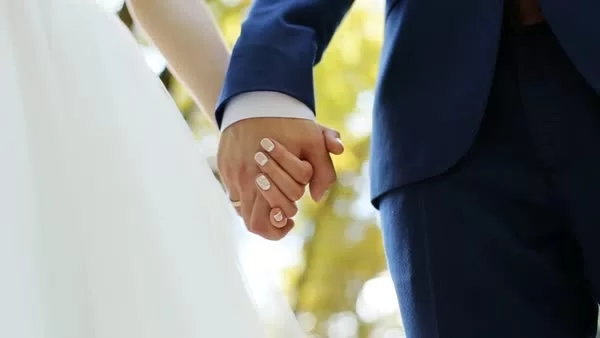 30. The wedding may come and go, but the love and affection between you will forever thrive. Congratulations.
31. You guys are breathing evidence of how wonderful and glamorous love can be. Congratulations on your wedding day.
32. Congratulations, my dear bride and groom, on this enormous fresh chapter of your lives. Relish every single moment of it and exclusively love each other.
33. Dispatching my warm desires and congratulations on your wedding. I wish your union bolsters of affection and bond.
34. Genuine happiness can exclusively originate in the arms of the one you love and cherish. God bless you on this unique day and for the remainder of your existence together.
35. What an incredible day for you both! You have simply shown society that credible affection never goes awry. I am so happy for you. Congratulations.
36. My Favorite, you newly joined an extraordinary phase of life today. The life of prosperity and happiness has commenced. Happy wedding anniversary, May your existence together be replenished with tons of remarkable moments. Be delighted and keep happy.
Related topic: new wishes for the newlywed
Marriage Wishes Caption
37. Hoping you have the best as the two of you embrace this fascinating journey. Happy wedding day.
38. So, thrilled to see you commemorating this special event. You're completely one of a kind. Congratulations on your wedding day!
39. May your union be healthier over the years and continue to be steadfast throughout the storms of life. Happy wedding day!
40. I desire this wedding brings tons of prosperity and success to your lives. Congratulations.
41. Before you begin your new life, I like to say, constantly make each other your ultimate focus and make love the focal point of your daily lives. Your union is blessed.
42. Keep giving rise to moments of amusement and fun for each other through the years to come. Multiple congratulations to you on your unique day.
Wedding Greetings and Wishes
43. Best wishes to the wonderful and elegant duo as they proceed on an incredible voyage of marriage together. I love both of you together.
44. It's your path to the fresh phase of life. May God bless you. I desire, you together with fantastic colors, all the shades of happiness of life. Enormous peace and happiness are waiting for you. Rejoice it's a great beginning for you!
45. Seeing you together is like glimpsing at sunrise, I am confirming the onset of something beautiful and elegant. Grateful for consenting me to be here with you.
46. Desiring you both tons of glee and happiness on your wedding day. May it be the inception of an incredible and breathtaking life together. Bunch of love.
47. Congratulations to one of the promising duos I know. Merriments to many more remarkable years to come.
Wedding Greetings in English
48. My coziest intentions and desires are with you as you enjoy your union.
49. As you raise aloft your drinks to each other tonight, I raise mine to you both from afar. Here's to a completely remarkable duo and a union replenished with every happiness.
50. May you fetch each other as much happiness as your union has brought to my being and more. Congratulations!
51. Marriage is valuable and to be honored. The love that you possess can never be assessed. It unites you as one, not even the ring, Happy married life.
52. Protect the love and make it burn forever. Recollect the promising moments, don't dwell in the past. The union that you beget demonstrates to the world that you care, not just for yourselves, but for the family you share. Congratulations.
53. Today is your day to preserve perpetually, Never disregard or neglect what brought you together. This momentous time is simply for you, A time to think back to when you've said "I do". Happy married life.
Happy Married Life Thoughts
54. This will be one of the most joyful days of your widespread existence. Recognize that, tough times may come and you should be able to overcome together all the setbacks you will encounter in the future. Congratulations!
55. Take care of your family and build your home to be comfortable and safe territory for your children. Congratulations on your wedding!
56. May this day be the first of millions of fascinating and delightful moments as a wedded duo. Congrats.
57. May the genuine joy and accomplishments that you feel sufficiently exceed the honeymoon and for several years to come. Happy married life!
58. Seal your marital bliss with a kiss today and every day! Congrats on your wedding day!
59. May the coming years be replenished with lasting happiness. To a pair whose match truly appears to be formulated in heaven, Happy Married life!
60. May your existence together be as optimistic as your love, and may you both proceed to glow in each other's life. Congratulations!
Cute Wedding Wishes
61. For a special couple. May your wedding be a time to celebrate all the richness love has brought into your lives. Congratulations on your wedding day!
62. May the love that brought you together never part. Happy married life.
63. Warmest wedding wishes and joyful hopes for your beautiful union.
64. Thinking of you both with love and happiness on your wedding day makes me feel you will excel. Go and succeed in your wonderful union.
65. Wishing you all the love and happiness that this world offers. Happy wedding day.
66. The most enjoyable part of life is sharing it with the one you know the best. Congratulations on your wedding day.
67. The start of something elegant proceeds with tremendous elements. Best wishes and congrats!
68. Hoping that your love grows stronger every day and wish you a lifetime of happiness. Congratulations on your wedding day!
69. May your "happiness ever after" be all that it should be. A heartfelt congratulations to you!
70. Live well, love much, and laugh frequently, the recipe for a great marriage. Congrats.
Bless Your Marriage
71. Wishing the newlyweds with blessed marriage wishes will make them understand that you are remembering them in your prayers and seeking God to give them His blessings. Find the bless your marriage message to write for the newlyweds on a wedding card or say them upfront.
72. May you both be endowed with heavenly love in abundance. May God bring all your concerns to go away and replenish your heart with love and respect for each other.
73. May our Lord smile upon you constantly and give you all the happiness you ever wanted in life. May your union be protected by God's eternal love!
74. May God send His blessings to both of you as you walk into the sacred union of marriage. I wish you guys an infinity of love and prosperity together.
75. Congratulations on your lovely wedding! May God bless you and give you an incredible life together.
76. Let the gifts of God come through the open door in your heart and let your wedding be dominated by the abundance of His love.
77. God has brought your hearts together for establishing a lovely, sacred, and loyal heritage. May His blessings be forever with you!
78. May God enable you to conquer all the ups and downs of a post-marital life. May He blesses you with a wonderful self in form of a newborn.
79. God must have had a list of remarkable plans for you when he agreed to draw your hearts closer to each other. Let's thank Him today for everything!
Related topic: words of appreciation to those who attended your wedding
Happy Married Life Greetings
80. God has made perfect partners for each other in this world. Yours seem to be the most perfect pair of all. God bless you.
81. May God bless your union, and deepen your love and happiness throughout the years.
82. I pray that the Almighty honors you with thriving love and compassion throughout your union. May your marital life be injected with numerous delights.
83. The love you share was created in heaven. I pray to God to keep your love safe forever. Congratulations on your wedding.
84. May God bless you every day with valuable and joyous moments, good luck, and promising health! Dwell in love and have fun together. Wishing you a lifetime replenished with happiness and joy.
85. Wishing you a happy married life. May God guide you in your current path and honor you every day.
86. May God bless your marriage and conjugal life. Best wishes on your new journey. My prayers are always with you.
87. Nothing can break you apart if and if only your faith is strong enough, as that's what will keep you two together. May Lord bless you and your union.
88. May Lord bless the love you both hold for each other and favor you in the totality of your years together ahead. May your love constantly stay green.
Congrats For Marriage
89. Try to express your love and adoration through the congrats for marriage to your friends, loved ones, neighbors, and colleagues at their wedding ceremony. Appreciate them, share their happiness, show your pride and make the day all about them and them only.
90. Congratulations! May your union be happy and boundless.
91. Congratulations to the most charming-looking bride and groom for arriving into a new chapter in their life. May God's blessing be with you in the coming years.
92. My heartfelt congratulations go to both of you for locating each other out of billions of people in this world. You appear too true for each other.
93. Your marriage is like following a show. Both of you look so happy and glowing. Congratulations, Dear. May the delight of today remain forever.
94. Thanks for making us all happy today. You have very good taste in choosing your partner for life. Congratulations to both of you.
95. The desire of your heart finally comes true. Let your union be reliable until the last day of your life. Heartily Congratulations on your wedding.
96. Congratulations on your wedding. I wish you continual love and forever togetherness.
97. Let the love grow in your hearts on this special day. Congratulations to both of you for beginning this great journey together.
 Caption for Newly Married Couple
98. Congratulations to you, May you grow old with each other for the rest of your life and grow a family together.
99. May your matrimonial pact be filled with all the right ingredients: A heap of love with romance, a dash of humor, and mostly a spoonful of understanding. Congratulations!
100. The wedding day of you guys may come and go, but may the love between you forever grow. Congratulations.
101. You guys are living proof of how beautiful love can be. Congratulations on your wedding day.
102. Congratulations, my dear bride and groom, on this great new chapter in your lives. Enjoy every single second of it and unconditionally love each other.
103. Sending my warm wishes and congratulations on your wedding. I hope your marriage strengthens your love and bond.
104. May your love for one another be unwavering and powerful through the storms of life. Our hearts wish you both all the best things for your married life. Congratulations to both of you.
105. Congratulations, I wish you a happy and prosperous married life that lasts forever.
Related topic: best message to send to the bride before the wedding
Happy Married Life Quotations
106. Marriage proposes give-and-take. But to live happily ever after, your union must be a cheerful one, replenished with the kind of intense excitement and extreme approval that promotes a blissful union between two people.
107. To celebrate the joys of marriage, we've put together a list of the best happy marriage life quotations of all time. Whether you're engaged, newly married, or going on multiple decades married to the same person, you'll appreciate these marriage wishes quotes.
108. The secret of a happy marriage is locating the right person at whatever costs. You will only be able to validate this if you love to be with the person all the time.
109. Marriage can be compared to watching the color of leaves in the fall; ever-changing and beautiful, you don't get tired of new sights.
110. The highest ecstasy on earth is finding the right person and taking a step further into marriage.
111. Marriage may look risky! I think it's the best and most glorious risk everyone should take, provided you embark on the adventure with the right person.
112. A good marriage is one where each partner prefers and values each other.
Quotes for Newly Married Couple
113. Marriage is like a graph, it may not be without curves. The beauty of it is the curves.
113. A simple 'I love you' means more than all the wealth in the world. Say it as often as possible!
115. A perfect marriage is the union of two good givers and forgivers who will not be tired of doing so forever.
116. Love understands no hurdles, overcomes barriers, jumps fences, defeats challenges, and penetrates walls to arrive at its destination of bliss. This is kind of love is fitting for marriage.
117. Love is about friendship, marriage is sweet when both parties are friends.
118. There is nothing in this world as good as marriage. You are privileged if you have found one!
119. The world is the best place to live when marriages work. The beauty of marriage glows when it is worked out, not just starting it.
120. Marriage is a zone of pleasure if you're in it with the right person. Find the right person and stick there!