15 Powerful Insights to Developing an Effective Prayer Life Constantly
The subject of prayer cannot be overemphasized when it comes to maintaining a qualitative walk with God. God is high above all and He lives in the invisible realms. He desires intimacy with everyone who has submitted to Him. The most viable means of establishing this relationship with Him is through an effective prayer life.
The human connection to the heavenly realms is prayer. No one can communicate the invisible realms where God lives without engaging the force of prayer. This, therefore, becomes a culture everyone who wants to secure divine help must cultivate.
Many people pray, but only a few people are aware of how to lead an effective prayer life. It's very important to pray, but it's much more important to pray efficiently. If your prayers must attract undeniable results, then they must be very fervent. Fervent prayers cannot be denied their intended results.
Everything in the kingdom of God has to be learned. If you must do it well, you will have to be taught. The teaching has to be done either through the Holy Spirit or human vessels as God has placed them around your lives. The disciples asked Jesus, "Teach us to pray".  If Disciples could be taught how to pray, then it's important to learn it also. Prayer is how we can know the Lord
Helpful resource: Knowing the Lord intimately
How to Develop an Effective Prayer Life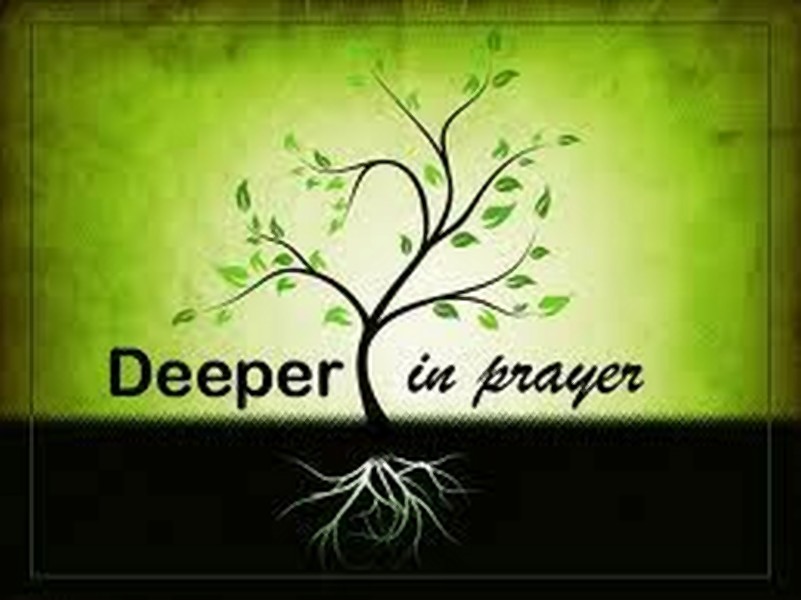 Persistence and consistency in prayer are the backbones of the prayer that will bring divine intervention on the matter of interest. When the answers are delayed, importunity must be shown. You need to keep striking the wall until there is a winning blow. Practicing consistency is how to develop a powerful prayer life.
If you have desired how to develop an effective prayer life and pray the Bible way, you're on the right page. I will be showing you some power keys to pray effectively and efficiently.
¥1. Have an established relationship with God: The intention of God for you is to make you a friend. He doesn't want you to be a stranger to Him. Nobody gives quick attention to a distant friend, everyone responds to those who they consider intimate. Human beings often feel cheated when you make them feel you just want to use them to meet your needs without a prior cordial friendship.
In the same way, God doesn't expect you to only show up whenever you're in need. He wants you to Himself all the time, not just in emergencies. You'll not get the best of God if you only show up in a time of crisis. If the crisis is the only thing that makes you pray, you may never be crisis-free. God will always answer the cry of everyone who comes to Him but He gives more attention to His friends.
The essence of prayer is for relationship development with God, not just for request-making. Through prayer we make requests, but the ultimate purpose of prayer is fellowship and intimacy. Once you've developed an intimate relationship with God, getting Him to answer your prayers will become a normal phenomenon. Personal development prayer to foster your relationship with God should be your desire.
The effectiveness of any prayer is measured by the intimacy of the one praying. Just the same way you'll not struggle to get anything from your close friends; you'll never struggle to get anything from God if you have laid a foundation of an intimate relationship with Him.
He wants to bring you from the outer court to the innermost court for fellowship and encounter with Him that is beyond meeting your request. "No longer do I call you servants, for the servant, does not know what his master is doing; but I have called you friends, for all that I have heard from my Father I have made known to you"(John.15.15). This is the deeper level of intimacy God wants to bring you into.
If you can build this level of friendship with Him, you'll have all your needs met without too much request-making. The presence of God is the greatest supplier of the needs of life. Every seeker of God must graduate from a casual friendship that only shows up whenever there is a need, and move into a deeper and more intimate friendship with him. Praise God!
Related resource: Prayer strengthens faith
¥2. Be given to thanksgiving: Gratefulness opens the hands of God to supply answers to your prayers. The throne room of God must be approached with thanksgiving, praising him for what He has done and what He's set to do. Let us come before His presence with thanksgiving; Let us shout joyfully to Him with psalms (Psalms 95:2). This is the most acceptable way in which we must come.
Gates of answered prayer cannot be opened if you have not engaged the key of thanksgiving. One of the factors that can hinder effective prayer is ingratitude. Gratitude ought to be the regular lifestyle of a believing saint in light. This pleases God and gives pleasure to Him.
There are several wills of God revealed in the Bible. Giving is the will of God for the saints; He wants you to be a giver. Prayer is His will, He wants you to pray. And several others. One of the wills of God is thanksgiving. "Give thanks in all circumstances; for this is the will of God in Christ Jesus for you. (1 Thessalonians 5:18).
Regardless of the hard times, you might be going through, give thanks to Him always. When you go to God in prayer, do not be so obsessed with the urgency of your needs that you'll now forget to give him thanks sufficiently.
If you can praise God with the whole of your heart, He will raise you to His level. Your needs should not obsess you as much giving thanks to Him. You cannot lift Him high, and stay down. Gratefulness makes great. Appreciation brings exaltation.
¥3. Inquire of Him and ask Him for guidance in prayer: For Prayer to be very effective, it's important to find out what the will of God is. "Don't live carelessly, unthinkingly. Make sure you understand what the Master wants"(Ephesians 5:17).
Prayer life begins with knowledge of the will of God. This will affect your level of boldness and confidence before Him. When you know that what you're asking for is His will, you will be confident that He will hear you.
"And this is the confidence that we have in him that, if we ask anything according to his will, he hears us" (1 John 5:14). If you are not sure if God wants you to have what you're asking for or not, you may not be fully persuaded when praying. Take time to find out in the word of God the perspective of God about the list of your prayers. When you are well versed in the written word, you'll always be intimated with the will of God for your life.
How to deepen your prayer life is by praying in consonance with the will of God by praying in the Spirit. Praying in the Spirit opens you to the assistance of the Spirit in praying the will of God back to Him. The scripture has submitted, "Likewise the Spirit also helps our infirmities: for we know not what we should pray for as we ought: but the Spirit itself makes intercession for us with groaning which cannot be uttered" (Romans 8:26).
You may pray amiss in your human language but you cannot pray amiss in the spirit. When the Spirit helps you to pray, your result is guaranteed.
¥4. Pray with all our heart: "And ye shall seek me, and find me when ye shall search for me with all your heart" (Jeremiah 29:13). One of the greatest hindrances to answered prayer is a divided heart. It's important to bring your heart into perfect harmony with your soul and spirit. A heart that wanders cannot pray effectively.
If your heart wanders, you will be short of effectiveness in fellowship with God. True prayer begins in the heart, not on the lips. Only heartfelt prayer can move God not lip prayers. The prayer that has not touched your heart cannot touch God. The effectiveness of your prayer is measured by the amount of your heart engagement in it.
Confess to one another therefore your faults (your slips, your false steps, your offenses, your sins) and pray [also] for one another, that you may be healed and restored [to a spiritual tone of mind and heart]. The earnest (heartfelt, continued) prayer of a righteous man makes tremendous power available [dynamic in its working] (James 5:16). The Prayer that will bring results must be heartfelt powerful prayers.
¥5. Walk in forgiveness: As much as you want to pray, you need to also pay attention to the things that constitute hindrances to prayers. Lack of forgiveness is one of the major oppositions to answered prayers. One of the bible verses about hindered prayers is Mathew 6:14-15. "For if ye forgive men their trespasses, your heavenly Father will also forgive you: But if ye forgive not men their trespasses, neither will your Father forgive your trespasses".
God has forgiven through the finished works of Jesus on the cross. You didn't work for it neither did you deserve it, but His mercy has shown you a favor, and you're forgiven. You're expected to show the same attitude of forgiveness towards everyone who offends you. They may not deserve it, and you may not feel like doing it, but obeying the commandment of the Lord who has asked you to forgive will facilitate answers to your prayer.
You'll never be able to stop men from offending you as long as you're in this world, but you can always choose to forgive them as often as it is required. Forgiveness does you much more favorable than it does to the person that offends you. The decision to forgive is a decision to stay happy without carrying anybody in your mind. Forgiveness is one of the ingredients of prayer.
¥6. Walk in faith: What makes prayer very effective is faith in God. Faith and answered prayers are inseparable. It's not in the multitude of prayers but in the quality of faith. Unbelief hinders prayers. The prayer done in faith is the one that can effectively deliver results.
Bible says, "If any of you lack wisdom, let him ask of God, that gives to all men liberally and upbraids not; and it shall be given him. But let him ask in faith, nothing wavering. For he that wavers, is like a wave of the sea driven with the wind and tossed. For let, not that man thinks that he shall receive anything of the Lord. A double-minded man is unstable in all his ways" (James 1:5-8).
God is willing to answer every prayer liberally but the asking must be done in faith. If you cannot believe Him, do not think you'll receive anything from Him. It's important to work on your heart to attain stability in faith before, during, and after prayer. Whenever there is a little delay in the manifestation of your outcome, your mind is prone to shaking and wavering from God's promises.
In times like this, you need to engage in the meditation of the word and more prayers. Stay with the word until all your doubts disappear. If your mind is still shaking, you're not there yet. You need to get to a point where your heart is fixed.
"He shall not be afraid of evil tidings: his heart is fixed, trusting in the LORD. His heart is established, he shall not be afraid, until he sees his desire upon his enemies" (Psalms 112:7-8). Your prayer will not deliver to you until your heart is fixed without wavering.
¥7. Pray in specific terms: When approaching God in prayer, ask him what you came for in specific terms. Do not be so full of words that you will not even know what you're asking for. State your request very clearly and pray in consonance with the word that promises you what you are asking for. Do not approach God in vague terms, speak in plain language.
¥8. Intercede for others: It's not best to be full of yourself while praying; extending the hand of goodness to your neighbor through intercession is an art of love that is rewardable. Praying for others is the Lord's command that must be obeyed.
"I exhort therefore, that, first of all, supplications, prayers, intercessions, and giving of thanks, be made for all men; For kings, and for all that are in authority; that we may lead a quiet and peaceable life in all godliness and honesty. For this is good and acceptable in the sight of God our Savior"(1 Timothy 2:1-3).
The scripture above stated clearly that intercession is good and acceptable in the sight of God. Intercession is the current ministry of Jesus at the right hand of the father. He's currently seated praying for the saints according to the will of God.
If Jesus could be this interested in intercession, that means it must be important to God. If it's important to God, whoever takes interest in it will attract God's attention. When you put others first in prayer, God will put you first in answers. It's in the Lord's desire for you to live for Him and also for others.
¥9. Have a prayer partner: A popular slogan says, 'Never walk alone'. "How should one chase a thousand, and two put ten thousand to flight, except their Rock had sold them, and the LORD had shut them up?" (Deuteronomy 32:30). The kingdom of God thrives more like a community than in isolation. We're more powerful as a united people than separating from one another. What you cannot achieve alone can be achieved by a group of brethren.
" Again I say unto you, That if two of you shall agree on earth as touching anything that they shall ask, it shall be done for them of my Father which is in heaven" (Mathew 18:19). When we join forces together in the name of Jesus, we cannot be denied our request. The greatest victory of the enemy over the church is the discord among brethren. If the church can be united as one people and pray, Satan will lose his ground around their lives.
The first church was born on the ground of unity. Bible says in Acts.1.14 and Acts 2:1
"These all continued with one accord in prayer and supplication, with the women, and Mary the mother of Jesus, and with his brethren. And when the day of Pentecost fully came, they were all with one accord in one place".
There's power in praying together. When a need or urgency arises within your life and you're overwhelmed, seek a brother or sister of like faith and get connected in prayer. You'll always see the power of God show forth mightily in your space.
¥10. Be persistent: "Continue in prayer, and watch in the same with thanksgiving" (Colossians 4:2). A delay in answered prayer can bring weariness to the soul of the one praying. Hope defers makes the heart sick says the scripture. Everyone who believes in prayer has to continue praying regardless of whether there are visible results or none. It does not matter the delay you are experiencing, God will always show forth.
If you can believe Him long enough, all things will be possible for you. Persistence is the backbone of prevailing prayers. Be God-conscious than you are result-conscious. If you are too result-conscious, weariness will penetrate your soul when the delay is experienced but if you stay conscious of God, you will always be encouraged. Don't quit believing regardless of the delays you encounter, let God meet you fervently waiting for Him when He eventually shows up.
Keys to Effective Prayer
Certain keys foster an efficient prayer life and without them, you cannot gain entry and be productive in your daily prayer engagement. Some of these keys will be shared with you to improve your efficiency in prayer.
¥11. Humility: – If my people, which are called by my name, shall humble themselves, and pray, and seek my face, and turn from their wicked ways; then will I hear from heaven, and will forgive their sin, and will heal their land (2 Chronicles 7:14).
It takes humility to pray. Anyone who feels sufficient in themselves would not see the need to seek the face of God and depend on Him. One must have recognized his insufficiency as a human being before one can make prayers become his culture. If you can help yourself, there will be no need to seek the face of the Lord. Humility is one of the vital steps in praying.
On several occasions in the scripture, we have seen God's perspectives about those who don't seek His face, which He punished them for. The only evil that some folks committed in the scripture is that they didn't seek the Lord. "And he (king Rehoboam) did evil because he prepared not his heart to seek the LORD" (2 Chronicles 12:14). There's nothing that pleases the Lord like seeking Him wholeheartedly.
¥12. Sincerity in prayer: Can you imagine a patient who went to a medical doctor for diagnosis and treatment but was never sincere to divulge the whole issue to him? How could such be helped? It's unnecessary to veil yourself from an individual that sees all. This is why medical doctors ask you a series of questions when you're brought to them. Your sincerity will help them to help you.
In the same vein, when you come before the God of the whole earth to whom you can hide nothing, you need to be truthful enough before Him so that He can help you. Insincerity with the Lord is self-deception. You cannot deceive the Lord.
Wherefore the Lord said, For as much as this person draw near me with their mouth, and with their lips do honor me, but have removed their heart far from me, and their fear toward me is taught by the precept of men(Isaiah 29:13)
When you come before Him, just be sincere. Say what you mean and mean what you say. Do not be like the Israelites who will return to the Lord when they get punished but will withdraw from Him when their situations get fine. That's the deception, and with such, God is not pleased.
¥12. Pray in the Spirit: The Spirit of the Lord is a major key to efficient prayer life. When you lean on the assistance of the Holy Spirit to pray, all your prayer points will be very correct in the ears of the Lord. Why? The Spirit only prays according to the will of God. "And he that searches the hearts knows what is the mind of the Spirit because he makes intercession for the saints according to the will of God" (Romans 8:27).
When you're assisted to utter the will of God back to Him in prayer, you cannot be denied answers to your prayers. The Holy Spirit has been given to you to help you through both your physical and prayer life. He must bring you on the same page with the Lord. Sometimes you're lost for words in prayers, in such a time, you can leverage the help of the Spirit to pray further. Human languages are subject to exhaustion, but Spirit language is endless.
¥13. Be passionate: Vehemence is needed when you come before God for help. Oftentimes, we're distracted whenever we're praying. Our entire being is not involved because our minds are somewhere else doing transactions. This business in the soul of man can be a major hindrance to effective prayers. God listens to your heart more than He listens to your mouth. Praying passionately can only be a product of the heart's engagement.
The noises in the soul need to be silenced before real prayers can begin. Any prayer you pray and it doesn't come from your heart is regarded as the sacrifice of the unwise. Put all of yourself in prayer. This is so important! Mind you, your prayer must affect you, before it can affect your situation.
¥14. Be open to the directives of the Spirit: You need to understand that prayer is not primarily meant to change your situations, but to change you. It may not change all situations for you, but it will change you for all situations. What the Holy Spirit does is supply you with instructions that will enable you to change the situation. You'll be led regarding what to do about the matter on the ground.
¥15. Expect Immediate Answers. Do not pray without expecting answers to your prayers. And do not expect God to answer you in the future, expect Him to do it now. How so many people pray without expecting God to do what they desire immediately!
The answers may not necessarily come in material forms; they may come in form of instructions, ideas, or insights. Sometimes, the answer to your prayers is just a change of mindset about what you are praying for. If your mindset changes about it, you might find out that nothing is a challenge in the first place. How the Spirit does this is to enlighten you through a word or activation of scripture in your soul. Once you see the light, the situation will change miraculously.
To cap it all, It's good to pray, but it's better to pray effectively. An effective prayer life is very paramount if we must have results for all our prayers. It's my pleasure that you'll apply what you've learned on this site. Do not hesitate to leave a comment and share it with your family, friends, and your social media handles.