What is Love of God Meaning | Overcoming Challenges through Security In God's Love
Have you been going through difficult times that have made you question if God loves you at all? Has your health condition made you doubt the fact that God heals? Have you been so financially broke that you begin to doubt the provisional ability of God? Knowing the love of God's meaning will dissolve your doubt and induce with ability to believe again.
Love of God Meaning
To truly know the Love of God's meaning towards humanity, you need to look at Jesus on the cross, a scenario where God demonstrated His love at the apex towards humanity.
Jesus was said to be only begotten of the father, God doesn't have a second entity next to Him, He was the only one. He was the word of the father who had been with Him from the beginning yet the father does not mind giving up for us all.
The scripture says, "What then shall we say to these things? If God is for us, who can be against us? He who did not spare His own Son, but delivered Him up for us all, how shall He not with Him also freely give us all things?" (Romans 8:31-32).
How great is the love of God! Just because God wants to show His love to you, He spent His last card to secure your salvation. Jesus was God's best and God put Him on the line for you.
Look at the message translation of the verse we just read. "If God didn't hesitate to put everything on the line for us, embracing our condition and exposing himself to the worst by sending his own Son, is there anything else he wouldn't gladly and freely do for us?" (Romans 8:32 MSB).
You're worth much to God, God places an inestimable value on you that you're not even aware of. If you want to know the worth of a thing, check what is used in exchange for it. You know the value of an item by the exchange rate placed on it at the market.
If you want to know what you're worth or what you mean to God, look at what He used in exchange for your life. He used His very only begotten son in exchange for your salvation. You are worth Jesus to God that is why He gave Him for you.
This is the love of God's meaning. "For God so loved the world that He gave His only begotten Son, that whoever believes in Him should not perish but have everlasting life" (John 3:16).
What is so captivating about the love of God is that He placed His only begotten Son of God on the line for you. That's remarkable! Who does that? Human beings can only give you a thing because they have another they could fall on after giving you one. Hardly will you see a man who will give His only car or property to you. Human beings cannot do that but God did. This is the love of God!
Knowing that God loves you this much, you ought to be secure in Him without allowing anything to threaten your sense of security in Him. He loves you, and truly He does! God is an active lover, He does not just in word, He loves indeed. He is very committed and he would do anything to come after you. It is so thrilling to know that He loves you, this should help live joyfully
Related Post: living in Joy of the Lord
What it took God to save you is not up to what it will take Him to sustain you. If He saved you, He will sustain you. Sometimes, life happens to you and you're wondering if God loves you at all. If God truly loves me, why will He allow all these things to happen to me? Such questions are normal!
No matter what you are going through, be persuaded God loves you. Regardless of what you are faced with, never allow life's challenges to make you question the authenticity of God's love for you. It will never start to become untrue one day that God loves you. Having this settled in your heart is your first victory in the face of challenges.
If everything negates the fact that God loves you and there is nothing evidential enough to prove that He truly does, let one thing stick to your mind, that Christ died for you which is a perfect template that He truly loves.
Everything around your life may oppose that you're loved by God, but let the death of Jesus remind you that God does love you. If it is true that Christ died for you, then, the love of God for you is too real to be untrue.
What is the Unconditional Love of God According to the Bible?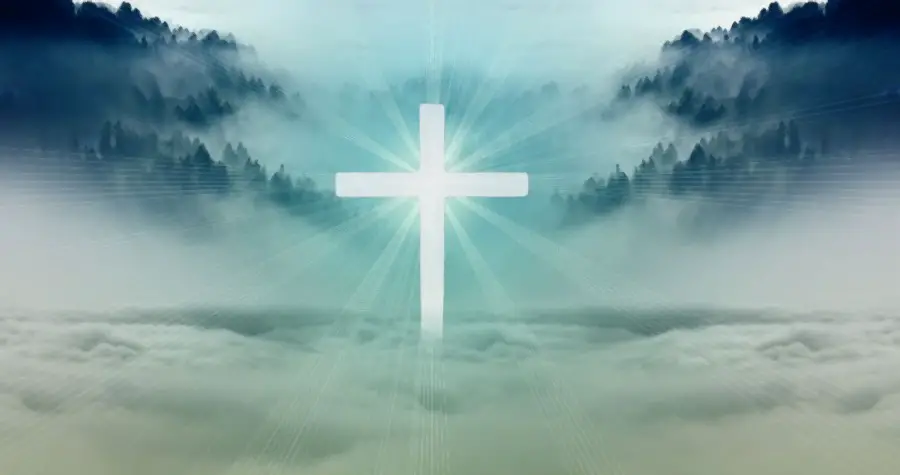 The first thing I need you to see in the question above is that the love of God is unconditional. It is stable, it is perfect, it's unwavering, it's unchanging, it's unalterable, it's endless, name it. This kind of love is higher than a human can afford. Every man can only love according to His capacity, and so does God. A man stops at man's limit, but God is limitless.
What is the unconditional love of God accordingly to the bible? The unconditional love of God is the dimension of His love where:
✓God doesn't take your permission to love you.
✓He doesn't consult your mistakes to determine His relationship with you.
✓He doesn't consult your past to determine your future.
✓He doesn't deal with you according to your transgressions or shortcomings.
✓He loves you without deserving it.
✓He looks for you when you go astray.
✓He lightens you when you sit in darkness.
This is what unconditional love of God is according to the scriptures and the love of God means. But God demonstrates His love toward us, in that while we were still sinners, Christ died for us (Romans 5:8). While we cannot do anything to make payment for our salvation, Christ showed up to die for us.
Remember, it was a man who left where God had placed Him in the garden of Eden, it wasn't God who left Him. Even though He left where God kept Him, yet God looked for Him. I suppose Prophet Micah caught a revelation of this also when he says, "Do not rejoice over me, my enemy; When I fall, I will arise; When I sit in darkness, The LORD will be a light to me" (Micah 7:8).
The man went to sit in darkness, God came looking for him which was why He said, "Then the LORD God called to Adam and said to him, "Where are you?" (Genesis 3:9). The man had gone to partner with darkness by giving heed to the voice of the devil. God was aware of this, yet He came looking for him.
The mistake of man cannot frustrate the love of God. How do you explain that Christ still chose to die for the people that did not like Him and recommended to be crucified? The misbehavior of man cannot run the love of God dry. The love of God is an inexhaustible fountain, if any man comes in repentance and genuine brokenness, he will always drink from that fountain.
Your perfect works didn't make the love of God available, your imperfect works cannot exhaust it. Your misbehavior will never be so grave to change the love of God. No matter how much you stray, as long as you keep coming back, you're always accepted by the beloved. The father of our Lord Jesus Christ is always eager to welcome back home every son or daughter who has gone prodigal.
Maybe you're a person who has deviated from God's path by the reason of transgressions or unrighteous works and as a result of this, you have inflicted deceased conditions on yourself. Maybe you have contracted STDs in the course of immorality or your acts have imposed physical judgment on you, and you think God cannot deliver you from such consequences.
Relax! God got you covered in His love. "The LORD is merciful and gracious, Slow to anger, and abounding in mercy. He will not always strive with us, Nor will He keep His anger forever. He has not dealt with us according to our sins, Nor punished us according to our iniquities" (Psalms 103:8-10).
He will not always deal with you according to your sins even though He doesn't expect you to commit one. God doesn't expect you to sin but if you sin, His unconditional love has a provision for you.
"My little children, these things I write to you, so that you may not sin. And if anyone sins, we have an Advocate with the Father, Jesus Christ the righteous. And He is the propitiation for our sins, and not for ours only but also for the whole world" (1 John 2:1-2). This is the love of God meaning right there.
You should not sin but if you do, there's a provision for your sin in His love bank. I dare to tell you today, your coming to God is always a pleasure to Him. Don't be afraid, for He loves you affectionately and unconditionally. No matter how grave your offenses are, God is always the only option to run to, not the devil.
No reasonable earthly father will give his child to be handled by the enemy all because of offenses, no one would do that. If they are evil and will not do that to their kids, how much more is your heavenly father? God will always chastise His children who err not as a punishment but as a show of love. Chastisement is an expression of love, not a punishment.
"For whom the LORD loves He chastens, And scourges every son whom He receives. If you endure chastening, God deals with you as with sons; for what son is there whom a father does not chasten? But if you are without chastening, of which all have become partakers, then you are illegitimate and not sons. Furthermore, we have had human fathers who corrected us, and we paid them respect. Shall we not much more readily be in subjection to the Father of spirits and live?" (Hebrews 12:6-9).
God will often chastise you so that you can be useful to yourself and Him. He will pamper like a baby but He does not expect you to remain so. You know to grow to know intimately and be useful to Him. If only you know Him intimately, you will know that His love is great and endless.
Related Post: intimacy with the Lord
Security in the Love of God
It's very important that every believer fellowships with God until he/she is fully secure in Him. It takes fellowship to bring out the potential of who you are and what you have in Christ. If you don't have an intimate interaction with what has been made available to you in Christ, you cannot take the full benefit of it.
The security of a believer should not be insured in the things he has, it should be in God and God alone. If your security is in the things you have when those things are out of place, your joy will be affected and your life will be out of place. If your security is in what you're earning from your job, what happens to you when you lose the Job? Your life is not in things, your life is in Christ.
Related Post: Joy in the Holy Spirit
"For you died, and your life is hidden with Christ in God. When Christ who is our life appears, then you also will appear with Him in glory" (Colossians 3:3). This is your only center of security in the love of God.
We don't do life insurance, we do faith insurance. We're faith-insured.
Be established and be rooted Intimately in the love of God for you. Know assuredly that God loves you unconditionally and irrevocably. Know and be assured that you're a priority in His heart and that God is mindful of you always.
Stay on the Love Scriptures until it dominates your innermost consciousness. Labor on the word, labor in meditation, labor in intimate fellowship until you're transited to a realm of love where you know, that you know, that you cannot be lost in life, and that you're secured in Him always.
Be so drunk in His love so much that even if Satan converged the attention of the whole demons in the sky and on earth on you, you can say, "I KNOW MY REDEEMER LIVETH" just like Job.
How convinced are you that you're saved in His hands when the oceans roar and storms rage?
You see, the root and the depth of your love will be tested by the winds of life. The love of God will not necessarily make you immune to challenges. But when they show up, will you still be able to say, "I know whom I have believed" like Apostle Paul? This is why the Apostle Paul prayed for the Church, in Ephesians 3:16-19 "that they will be rooted and grounded in love"
"That He would grant you, according to the riches of His glory, to be strengthened with might through His Spirit in the inner man, that Christ may dwell in your hearts through faith; that you, being rooted and grounded in love, may be able to comprehend with all the saints what is the width and length and depth and height, to know the love of Christ which passes knowledge; that you may be filled with all the fullness of God"
Your reactions or responses in the time of trials will give reveal the depth of your root in the love of God.
If you study the gravity of His love for you, you will find out that His love for you is far higher, deeper, broader, and longer than the love between a man and a woman. Although the Bible uses a figurative expression of the love between a man and a woman to try to explain the love between Christ and Church, I don't think it still could communicate the depth of that Love.
What it took God to buy you up to His side is far greater than what It will take Him to sustain your life if at all it will take him anything at all. "He that spared not his own Son, but delivered Him up for us all, how shall he not with him also freely give us all things?' (Romans 8:32).
I have always heard some earthly parents say ' I cannot take my life myself because of any child' But God laid down Himself for His kids and if he could do that, there's no demon He cannot deal with, no mountain He cannot crush, no shadow He cannot light up coming after you.
Do not live your days on earth fretting and worrying over the future you are yet to see. If you are secured in the one who owns the future, then your future is secured equally.
It's not a persistent headache and sleepless night inspired by worry and anxieties that bring progress, it's rest inspired by the faith that brings progress in the Kingdom. God would not do anything about your conditions until you have taken your rest in Him. Rest is a sign of faith. "For we who have believed do enter that rest" (Hebrews 4:3).
The best way to lead a Christian life is to live your life in His hands and forget it forever. God cannot mismanage your life, just take your rest in God. It is impossible to walk in faith if you've not lost self -consciousness. The best kind of faith is the one that is powered and built on the Love of God. And this is only faith that can do the impossible for Him.
This faith would see a fire like Shadrach, Meshach, and Abednego and choose to enter it. This kind of Faith would see Lions' Den like and yet proceed further. This love consciousness would make you feel you're the only one to whom God converges all His attention.
Love and faith are inseparable. There's no faith without love. Love powers faith. That's why we can't teach faith without love. The secret of the exploit of Faith in Hebrew 11 is Love.
How do I know that I can't fail in life? It's not because I have it all planned and sorted out, neither is it because I have resources in place physically, rather, It's because I built my faith in Love that never fails.
"Love never fails. But where there are prophecies, they will cease; where there are tongues, they will be stilled; where there is knowledge, it will pass away." I Corinthians 13:8).
If you build your destiny on what cannot fail, that means you cannot fail either. It does matter what forms the foundation of your life.
What about handling sickness through the revelation of God's Love? This revelation of God's love will handle it effectively! If you're secured in Jesus, you would never contemplate death no matter the terribleness of the disease your body is infected with. You would know persuasively that nothing was meant to crush you down. Everything that happens is meant to bring glory to God at the end.
You're familiar with the story of Job in the Bible who lost everything he had overnight and most painfully His health. Everything fell apart. This man kept trusting God until everything turned around. Job believed that even if he died, God was able to raise him.
"For I know that my Redeemer lives, And He shall stand at last on the earth; And after my skin is destroyed, this I know, That in my flesh I shall see God, Whom I shall see for myself, And my eyes shall behold, and not another. How my heart yearns within me!" ( Job 19:25-27).
Verse 25 caught my attention here, he says, "And after my skin is destroyed, this I know, That in my flesh I shall see God". This man has secured in God.
Maybe you are currently experiencing decay in a particular part of your body and the fear has gripped your heart if you were ever going to get better. It doesn't matter if any part of your body decays, God can give you a brand new one as He did to Job. God restored his skin and it became like a baby.
After the issue of security is settled, then you need an accurate interpretation of events that happens in your life. If you don't have an accurate interpretation of the event within your life, you may mourn the situation you ought to celebrate.
Security in God speaks thus, Everything And All things(good and bad) that happens to you would always work together for your Good. No matter how bad the situation appears, it would consequentially culminate to your advantage. Don't mourn any situation, if it has been allowed to happen to you, it will eventually work together for your good no matter how bad it may appear. Stay positive in your speech, everything will align
Helpful Resource: maintaining a right confession
You may not know how this deteriorating situation will work together for your good, just relax. It is not in your capacity to know 'HOW' it will happen, all that matters is that it happens. Why will everything happen for your good? It's simple! Because you love God and you are called according to His purpose "And we know that all things work together for good to those who love God, to those who are the called according to His purpose" (Romans 8:28)
That's enough of a reason though it looks too simple to be true. When it comes to God, a thing doesn't have to sound complex or complicated to be turned miracle. Have you not read how God used Joseph's prison as raw material for His palace?
Have you not read how God used Jesus' crucifixion as a precursor for His glory? Yours will not be an exemption! I see you coming out of that situation and you will have a testimony in Jesus' name. Amen.
Every disappointment is convertible to a divine appointment if you have the right disposition toward it. Failure can be converted to flight. Who told you that termination of appointments in that company is equivalent to termination of your life? That could be the beginning of destiny for you.
Read again, "And we know that all things work together for good to them that love God, to them who are the called according to his purpose"( Romans 8:28)
This statement was uttered after trying situations faced by these folks. The Know is by Revelation anyway. You cannot deliver the exploit of Paul if you're not love-secured and love-driven.
See, there's fear in every stage and every phase of life. There are things to be afraid of on the daily basis. Your security in His love is your only guarantee to scale through these phases.
When your fears increase, then, your love tank must be leaking. You need to do a refill and you would be up and standing again. The presence of fear is a defect in love. "There is no fear in love, but perfect love casts out fear because fear involves torment. But he who fears has not been made perfect in love"(1 John 4:18).
Bible Verses about Faith and Love
The engine of faith is love, faith cannot be generated unless a message of love is preached. Therefore, if you want to exercise strong faith, you need to be established in the love of God. The love of God meaning helps you to walk in faith.
Here you have bible verses about faith and love for your meditation to help you build a formidable faith in God. You're bigger than challenges, you can win every battle. Here are His words for you, eat them until you're filled with the spirit of faith engineered by Love.
1. "And we have known and believed the love that God hath to us. God is love, and he that dwelleth in love dwelleth in God, and God in him" (1 John 4:16).
2. "That you do not become sluggish but imitate those who through faith and patience inherit the promises" (Hebrews 6:12).
3. "So Jesus answered and said to them, "Have faith in God. For assuredly, I say to you, whoever says to this mountain, "Be removed and be cast into the sea,' and does not doubt in his heart, but believes that those things he says will be done, he will have whatever he says" (Mark 11:22-23).
4. "But now faith, hope, love, abide these three; but the greatest of these is love" (1 Corinthians 13:13)
5. "Jesus said to her, "Did I not say to you that if you would believe you would see the glory of God?" (John 11:40).
6. "Constantly bearing in mind your work of faith and labor of love and steadfastness of hope in our Lord Jesus Christ in the presence of our God and Father" (1 Thessalonians 1:3).
7. "Bears all things, believes all things, hopes all things, endures all things" (1 Corinthians 13:7).
8. "So that Christ may dwell in your hearts through faith; and that you, being rooted and grounded in love" (Ephesians 3:17).
9. "For therein is the righteousness of God revealed from faith to faith: as it is written, The just shall live by faith" (Romans 1:17).
10. "So then faith cometh by hearing and hearing by the word of God" (Romans 10:17).
11. "We having the same spirit of faith, according to as it is written, I believed, and therefore have I spoken; we also believe, and therefore speak" (2 Corinthians 4:13)
12. "Examine yourselves, whether ye be in the faith; prove your selves. Know ye, not your selves, how that Jesus Christ is in you, except ye be reprobates?" (2 Corinthians 13:5).
13. "I am crucified with Christ: nevertheless I live; yet not I, but Christ liveth in me: and the life which I now live in the flesh I live by the faith of the Son of God, who loved me and gave himself for me" (Galatians 2:20).
14. "For in Jesus Christ neither circumcision availeth anything nor uncircumcision; but faith which worketh by love" (Galatians 5:6)
15. "We love him because he first loved us" (1 John 4:19).
16. "Above all, taking the shield of faith, wherewith ye shall be able to quench all the fiery darts of the wicked" (Ephesians 6:16).
17. "Remembering without ceasing your work of faith, and labor of love, and patience of hope in our Lord Jesus Christ, in the sight of God and our Father" (1 Thessalonians 1:3)
18. "For the love of Christ compels us because we judge thus: that if One died for all, then all died" (2 Corinthians 5:14).
19. "But whoso keepeth his word, in him verily is the love of God perfected: hereby know we that we are in him" (1 John 2:5 )
20. "Keep yourselves in the love of God, looking for the mercy of our Lord Jesus Christ unto eternal life" (Jude 1:21).
21. "But thou, O man of God, flee these things; and follow after righteousness, godliness, faith, love, patience, meekness" (1 Timothy 6.11).
22. "Behold what manner of love the Father has bestowed on us, that we should be called children of God! Therefore the world does not know us, because it did not know Him" (1 John 3:1).
23. "Hold fast the form of sound words, which thou hast heard of me, in faith and love which is in Christ Jesus" (2 Timothy 1:13).
24. "Let us hold fast the profession of our faith without wavering; (for he is faithful that promised" Hebrews 10:23).
25. "Now the just shall live by faith: but if any man draws back, my soul shall have no pleasure in him" Hebrews 10:38).
26. "By faith Abraham, when he was called to go out into a place which he should after receive for an inheritance, obeyed; and he went out, not knowing whither he went" (Hebrews 11:8).
27. "By faith, Isaac blessed Jacob and Esau concerning things to come" (Hebrews 11:20).
28. "Hereby perceive we the love of God, because he laid down his life for us: and we ought to lay down our lives for the brethren" (1 John 3:16).
30. "Remember them which have the rule over you, who have spoken unto you the word of God: whose faith follow, considering the end of their conversation" (Hebrews 13:7).
31. "For whatsoever is born of God overcometh the world: and this is the victory that overcometh the world, even our faith" (1 John 5:4).
32. "But since we are of the day, let us be sober, having put on the breastplate of faith and love, and as a helmet, the hope of salvation" (1 Thessalonians 5:8).
33. "Since we heard of your faith in Christ Jesus and the love which you have for all the saints" (Colossians 1:4).
34. "Now may the God of hope fill you with all joy and peace in believing, that you may abound in hope by the power of the Holy Spirit" (Romans 15:13)
35. "Love never fails; but if there are gifts of prophecy, they will be done away; if there are tongues, they will cease; if there is knowledge, it will be done away" (1 Corinthians 13:8).
36. "For us through the Spirit eagerly wait for the hope of righteousness by faith" (Galatians 5:5).
37. "And not being weak in faith, he did not consider his own body, already dead (since he was about a hundred years old), and the deadness of Sarah's womb" (Romans 4:19).
38. "Watch, stand fast in the faith, be brave, be strong" (1 Corinthians 16:13).
39. "And the grace of our Lord was exceedingly abundant, with faith and love which are in Christ Jesus" (1 Timothy 1:14).
40. "Fight the good fight of faith, lay hold on eternal life, whereunto thou art also called, and hast professed a good profession before many witnesses" (1 Timothy 6:12).
41. "For we walk by faith, not by sight" (2 Corinthians 5:7)
42. "Now hope does not disappoint, because the love of God has been poured out in our hearts by the Holy Spirit who was given to us" (Romans 5:5).
53. "Not boasting of things beyond measure, that is, in other men's labors, but having hope, that as your faith is increased, we shall be greatly enlarged by you in our sphere" (2 Corinthians 10:15).
44. "If indeed you continue in the faith firmly established and steadfast, and not moved away from the hope of the gospel that you have heard, which was proclaimed in all creation under heaven, and of which I, Paul, was made a minister" (Colossians 1:23).
45. "I have fought the good fight, I have finished the race, I have kept the faith" (2 Timothy 4:7). 46. "Through whom also we have access by faith into this grace in which we stand, and rejoice in hope of the glory of God" (Romans 5:2).
47. "He did not waver at the promise of God through unbelief but was strengthened in faith, giving glory to God" (Romans 4: 20).
48. "So that your faith would not rest on the wisdom of men, but on the power of God" (1 Corinthians 2:5).
49. "But let him ask in faith, nothing wavering. For he who wavers is like a wave of the sea driven with the wind and tossed" (James 1:6).
50. "He shall not be afraid of evil tidings: his heart is fixed, trusting in the LORD" (Psalms 112:7).
Helpful Resource: How Prayer and faith work
Every believer ought to seek to be established in the love of God to the depth that no wind of life can shake them off. Having read the love of God meaning, I believe it must have helped you develop formidable security in God. Your future is at the mercy of your understanding of God's love for you.
Knowing that you have been blessed by these insights, wouldn't you consider sharing with someone you consider dare to you? Do well to share with family, friends, and loved ones and as well as your social media handles. LEAVE A COMMENT.