120 Quotes About Waiting Patiently on God and in Life
There is no one in this life that will become anything significant that will not understand the power and virtue of patience. Without waiting patiently, no dream can translate into a reality. To have learned how to wait is to have mastered the law of success.
Waiting in life on God is one of the things that are easier said than done. As a human, I'm pretty sure you've been advised to wait on God a thousand and one times. Although it may seem hard, it's always worth it in the end.
We need to understand that God has a perfect plan for everyone; He is mindful of his children and wants the best for every one of them. It may seem like He's taking long because his timing is different from ours; the bible confirms that by saying a day is like a thousand years in the sight of God and a thousand years like a day. This is why to deal with God, patience is very important.
To you reading this article, if you're waiting on God for a particular thing in your life, I can assure you that God has not forgotten you. He has a plan for you and steps by step, He's taking you toward your great glory. Your season of waiting is for preparation. Don't give up, keep working. Spending time in nature and reading uplifting verses from the Bible or other inspirational books can also be helpful while you wait.
This article contains quotes about waiting patiently on God. You can read it to encourage yourself and you can also send it to a person that needs encouragement.
Quotes About Patience And Understanding
Life, in general, requires patience. Dealing with God requires extra patience.
It's one thing to wait and it's another thing to have the right attitude while waiting. The latter is the perfect definition of patience. Having the right attitude while waiting and understanding that there's a perfect time for everything is one of the best attributes a person can have.
Below are some quotes about waiting patiently and understanding;
1. Every happy ending has a period of challenges and waiting. Every success story is laced with many failure encounters. Success will lose its meaning if it were always rosy so it is advisable to take things as they come and learn from mistakes and failures with patience and endurance.
2. Patience is important, without it, no one can reap the fruits of his labor. Patience is always needed.
3. The hardest test a man can face on the journey of life is patience to wait for the right moment and having the courage to not be affected by what he encounters.
4. Learning and mastering patience can be difficult but once you've perfected it, your life will be easier.
5. Patience with hard work can achieve more than what only hard work will. Wait for a little more, everything will be alright!
6. You get a chick by waiting patiently for it to hatch and not by smashing it. Patience is very important in everything.
7. Challenges and obstacles pave way for the opportunity to learn patience.
8. Patience is an active theme. It takes strength and courage for a man to persevere and have the right attitude when faced with challenges.
9. Impatience can create more problems. The most difficult challenges in life require extra patience and also patience helps us to grow in wisdom and understanding.
10. Patience is like the oil in a lamp, you can't do without it neither can you have it too much! Always cultivate the spirit of patience!
Quotes About Waiting Is Worth It
Amidst the hustle and chaos in life, there is a need to stop in our tracks and wait. Sometimes the result of a difficult challenge is waiting. Waiting can be hard because work and things we do require us to always be in the run– always working to make ends meet– but waiting sometimes is always worth it.
I'd give you some quotes to back this claim– quotes about waiting patiently.
11. The good things in life are worth waiting for, fighting for, and believing in. Waiting for these right things is always worth it.
12. The joy that comes when we get what we've always wanted –what we've been waiting for– surpasses the pain of all the challenges and difficulties we had to go through before getting what we want.
13. If a thing is worth doing, it's worth doing well. If a thing is worth getting then it is worth waiting for.
14. It may take longer to get there. You may face challenges that are painful but you always get what you want; all the wait is always worth it in the end.
15. Waiting makes you appreciate something more when it eventually comes. Any good thing is worth waiting for.
16. Don't rush things; wait for the perfect time. Good things need time to be perfect and waiting patiently gives that time.
17. The most important things in our lives– love, success, good health, and family – require patience. We need to learn the art of patience because is a valuable virtue.
18. The extent of your patience reveals how much you value a particular thing. If you truly value it, you would wait for it.
19. Sometimes you know that a particular thing is perfect for you and you are willing to do anything even if it means waiting for it.
20. No matter how long it takes, success, healthy relationships, and love are always worth the wait.
Related topic: quotes about faith in God in hard times
Best Patience Quotes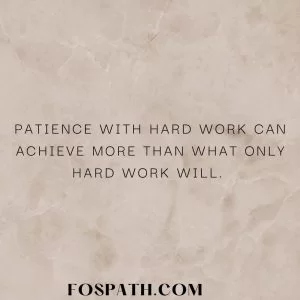 It's very common to hear the word patience in religion and most of us grew up hearing that patience is a virtue. Being a patient person is never easy especially when the person or situation we are dealing with is very frustrating and challenging. Yet, being able to tolerate, persevere and respond positively to frustrating situations can be a very helpful personality trait.
I hope that these quotes about waiting patiently below will give you the wisdom you need to tolerate and have a good attitude while waiting.
21. One minute of patience can prevent a whole lot of disaster and a minute of impatience can lead to harm and chaos.
22. Every pain and challenge is an integral part of what makes you what you become. Be patient and tough; your best days are ahead of you.
23. Be in tune with nature; it doesn't hurry yet it achieves everything. Make slow moves, be intentional and patient, and watch things work out smoothly.
24. Being a pro in any field requires patience. To excel in any skill, one asset you must possess is patience.
25. Every trial and challenge should give you joy because it's an opportunity to learn patience.
26. A man who can master patience will find it easy to master everything else.
27. Anything that slows us down and allows us to take a deep breath and think deeply; anything that makes us step back and be patient is helpful.
28. The process of patience may be hard and tasking but the result is always sweet.
29. No great thing was created in the twinkle of an eye. Every good thing requires patience, perseverance, and tolerance.
30. Learn to take things as they come and remember that patience and persistence will always win in the end.
Useful topic: winning mentality quotes
Quotes About Patience And Success
Success isn't restricted to only the big things. It isn't all about making it big and coming up with outstanding innovations. Success is more than winning a lottery ticket and becoming famous on TV. Success also involves small things. It is setting little goals and achieving them in the set time. These small things and even the big ones require patience, tolerance, perseverance and consistently putting in the work.
I've compiled some quotes about patience and success that'll motivate and inspire you to slow down and consider patience in your race to become successful.
31. The perfect combination for success is patience, perseverance, and consistency. If you possess all these, you will always succeed!
32. The road to success can be tricky and challenging but patience will always save the day. Keep working and exercising patience!
33. If flying gets exhausting, you can run. If you can no longer run or are tired of running, walk. If walking becomes challenging, then take a break and continue later. Keep moving, and never stop, you will soon be there!
34. A secret of success is having the ability to wait and have the right attitude while waiting.
35. Knowing when to hurry and put in the effort and when to be still and wait for results is a very useful virtue in the journey to success.
36. A seed doesn't germinate immediately after it is planted and a tree will not bear fruit immediately after it germinates. Success and good things take time but they're always worth it.
37. Great challenges can be overcome through patience and hard work. Keep working!
38. Patience is a noble virtue. It shows strength and courage.
39. Moving forward and not giving up is not something that's achieved in one day. It requires patience, hard work, showing up every day, and perseverance.
40. Success is not achieved immediately. It doesn't just come freely. It requires many days and weeks of patience and perseverance.
Useful topic: winning attitude quotes
Bible Quotes About Waiting Patiently
The word of God should be our guide as Christians. The Bible is perfect because it contains all that we need to grow; words of wisdom, encouragement, and correction amidst others. The Bible equally encourages us to be patient; it gives us examples of people that were patient and how their patience paid off.
Below are some Bible quotes about waiting patiently;
41. "Rest in the Lord and wait patiently for Him" (Psalms 37:7).
42. "Now we exhort you brethren…be patient toward all men" (1 Thessalonians 5:14).
43. "Be ye also patient" – (James 5:8).
44." For ye have need of patience" – (Hebrews 12:1).
45. "But let patience have her perfect work" – (James 1:4).
46. "And so after He had patiently endured, He obtained the promise" – (Hebrews 6:15).
47. "But they that wait upon the Lord shall renew their strength" –(Isaiah 40:31).
48. "But the fruit of the spirit is love, joy, peace, patience…bear fruit" (Galatians 5:22).
49. "Hot tempers cause arguments, but patience brings peace." (Proverbs 15:18).
50. "The end of something is better than its beginning. Patience is better than pride." (Ecclesiastes 7:8)
51. "Love is patient and kind; it is not jealous or conceited or proud; it is not arrogant." (1 Corinthians 13:4).
52. "Do not be anxious about anything, but in everything by prayer and supplication with thanksgiving let your requests be made known to God." (Philippians 4:6).
53. "Rejoice in hope, be patient in tribulation, be constant in prayer." (Romans 12:12).
54. "I waited patiently for the Lord; he inclined to me and heard my cry." (Psalm 40:1).
55. "Whoever is slow to anger has great understanding, but he who has a hasty temper exalts lack of wisdom." (Proverbs 14:29)
56. "But if we hope for what we do not see, we wait for it with patience." (Romans 8:25).
57. "The Lord will fight for you; you need only to be still." (Exodus 14:14).
58. "Let us not become weary in doing good, for at the proper time we will reap a harvest if we do not give up." (Galatians 6:9).
59. "Therefore, as God's chosen people, holy and dearly loved, clothe yourselves with compassion, kindness, humility, gentleness, and patience."( Colossians 3:12).
60. "May the God who gives endurance and encouragement give you the same attitude of mind toward each other that Christ Jesus had." (Romans 15:5).
61. "But do not forget this one thing, dear friends: With the Lord, a day is like a thousand years, and a thousand years are like a day."( 2 Peter 3:8).
62. "But as for you, be strong and do not give up, for your work will be rewarded." (2 Chronicles 15:7).
63. "You need to persevere so that when you have done the will of God, you will receive what he has promised." (Hebrew 10:36).
64. "The Lord is good to those whose hope is in him, to the one who seeks him; it is good to wait quietly for the salvation of the Lord." (Lamentations 3:25-26).
65. "Jesus replied, 'You do not realize now what I am doing, but later you will understand." (John 13:7).
66. "Be completely humble and gentle; be patient, bearing with one another in love."( Ephesians 4:2).
Sayings About Waiting Patiently
Waiting and having the right attitude while waiting is the best thing a person can do for himself or herself. Below are sayings about waiting patiently;
67. Understanding is a king, patience is his crown.
68. He who is not patient falls into trouble, but he who waits learns from his misfortune.
69. Success is like a sand castle, if you build in a hurry, you won't go far; be patient.
70. It is good to wait, but it is best to wait patiently.
71. The morning dawns for those who wait through the night.
72. The farmer who plants corn will not eat corn if he does not wait.
73. An unwise man plants a seed and eats it the same day, a wise man plants a seed and nations eat with him in due season.
74. Waiting without patience is like shooting crooked arrows.
75. The father of many nations waited for one son; wait, your time will come.
76. Patience is a virtue, those who wait will earn it.
77. Waiting pays, waiting patiently pays greatly.
78. The Holy Ghost descended on those who waited for the Pentecost; wait.
79. A man who is in a hurry to succeed will only hurry into failure.
80. Good success comes to those who wait on the Lord.
Quotes About Patiently Waiting On God
God doesn't rush things; he does everything at the perfect time. He gives answers to prayers and requests when it is the right time and He's never wrong. His timing is different from ours so we need to learn to patiently wait on Him. We are never to give up on Him. Ask, ask again. The beautiful thing is that He hears us every time and he will make all things work together for our good in His time.
Below are some quotes to strengthen and encourage you to patiently wait on God;
81. God has an appointed time and He'll fulfill His promise at the set time. Wait patiently and never stop praying.
82. There's no coincidence with God. Every single thing happens for a reason. Wait patiently and prayerfully. He wants the best for you, to take you from glory to glory and that's exactly what He'll do.
83. Our waiting period isn't just ordinary. God is working on us during every waiting period. He is conforming us to His image and making us realize we are nothing without Him. Our waiting period helps us realize that God is our only source of hope. It's a training ground.
84. When we are walking according to God's plan and will, we may have to wait as much as we move.
85. When God tells us to wait, it's always the right answer at the moment. When we obey and wait we help ourselves. We learn to hold onto him no matter the outcome. We trust Him more and believe that He sees what we can't see and he'll always do what's best for us.
Useful topic: prayer is powerful quotes
Time And Patience Quotes
86. Waiting on God brings joy and delight to the unexpected.
87. Waiting is saying yes to God's will and trusting His timing. We learn to be still. Sometimes in our waiting period, we hear God audibly giving us words of encouragement, and sometimes, He's silent but we still trust and understand His silence.
88. In your waiting period, don't be far from God. Feed on His word and build your relationship with Him. That's the essence of waiting.
89. Learning to put everything in God's hands and trusting His will is the best thing we can do for ourselves. We know that He loves us so we let Him work out His plan in the perfect way; patiently waiting while He works.
90. When God asks us to wait, He wants to see if we can trust His timing. He wants to train us to wait for His time. He wants to draw us closer to Him and be sure we don't just come to Him when we want things from Him.
Waiting With Patience Quotes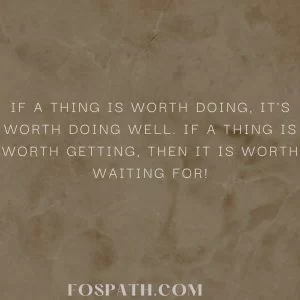 Just waiting is different from waiting and having the right attitude while waiting. The latter is patience. There are a lot of things in life that can test us while we are waiting and it's best we have patience during these times. Below are some quotes that can encourage you to wait with patience.
91. There is strength in letting go and a wise man waits patiently for what he deserves.
92. It's good to have patience in dealing with all things including yourself.
93. Trust the process and wait patiently for results. Everything will surely be alright!
94. Wisdom and patience work hand in hand. Learn to wait with patience.
95. Patience shows our level of self-control. We exercise our self-control through patience.
96. The ways and patterns of this world require us to be patient. To truly succeed in this life, we need to be able to wait with patience.
97. Waiting is a sign of love and trust. Only a person that truly loves you can wait patiently for you.
98. The journey to success might be a slow one for you but giving up will not speed it up. Step by step, you'll get to your destination.
99. Good things that last long don't come easy. It requires hard work and waiting with patience
100. Patience with God shows that we have faith in Him. Patience with self shows self-confidence. Every area of life requires patience.
Bible Verses About Patience In Love
Patience is a very important virtue. We need it in so many aspects of life if not all. Love requires patience too and the Bible confirms it. There are examples in the Bible where people had to be patient in love. As Christians, it's our responsibility to love others as we love ourselves but sometimes everyone may not be like us so we need the patience to show love to different people. Below are some bible verses about patience in love;
101. And Jacob served seven years for Rachel, and they seemed unto him but a few days, for the love he had for her(Genesis 29:20).
102. Charity suffereth long, and is kind; charity envieth not; charity vaunteth, not itself, is not puffed up, Doth not behave itself unseemly, seeketh not her own, is not easily provoked, thinketh no evil (1 Corinthians 13:4-5).
103. We then that are strong ought to bear the infirmities of the weak, and not to please ourselves(Romans 15:1).
104. By whom also we have access by faith into this grace wherein we stand and rejoice in hope of the glory of God. And not only so, but we glory in tribulations also: knowing that tribulation worketh patience; And patience, experience; and experience, hope(Romans 5:2-4 ).
105. Better is the end of a thing than the beginning thereof: and the patient in spirit is better than the proud in spirit(Ecclesiastes 7:8).
106. Be kindly affectioned one to another with brotherly love; in honor preferring one another (Romans 12:10).
107. And above all these things put on charity, which is the bond of perfectness(Colossians 3:14).
108. "And the Lord make you increase and abound in love one toward another, and toward all men, even as we do toward you"( 1 Thessalonians 3:12).
109. By pureness, by knowledge, by long-suffering, by kindness, by the Holy Ghost, by love unfeigned (2 Corinthians 6:6).
110. But, beloved, be not ignorant of this one thing, that one day is with the Lord as a thousand years and a thousand years as one day. (2 Peter 3:8).
111. Flee also youthful lusts: but follow righteousness, faith, charity, peace, with them that call on the Lord out of a pure heart (2 Timothy 2:22).
112. " And therefore will the Lord wait, that he may be gracious unto you, and therefore will he be exalted, that he may have mercy upon you: for the Lord is a God of judgment: blessed are all they that wait for him"( Isaiah 30:18).
113. "The Lord is merciful and gracious, slow to anger, and plenteous in mercy"( Psalm 103:8).
114. Now we exhort you, brethren, warn them that are unruly, comfort the feebleminded, support the weak, be patient toward all men (1 Thessalonians 5:14).
115. Set me as a seal upon thine heart, as a seal upon thine arm: for love is strong as death; jealousy is cruel as the grave: the coals thereof are coals of fire, which hath a most vehement flame (Song of Solomon 8:6).
116. "Many waters cannot quench love, neither can the floods drown it: if a man would give all the substance of his house for love, it would utterly be condemned"( Song of Solomon 8:7).
117. "That ye be not slothful, but followers of them who through faith and patience inherit the promises"( Hebrews 6:12 ).
118. "Be patient, therefore, brethren, unto the coming of the Lord. Behold, the husbandman waiteth for the precious fruit of the earth, and hath long patience for it, until he receives the early and latter rain"( James 5:7).
119. "And the Lord direct your hearts into the love of God, and into the patient waiting for Christ"( 2 Thessalonians 3:5).
120. "Forbearing one another, and forgiving one another, if any man have a quarrel against any: even as Christ forgave you, so also do ye"( Colossians 3:13).
Remember, patience is a virtue. Always exercise patience. Thanks for reading.